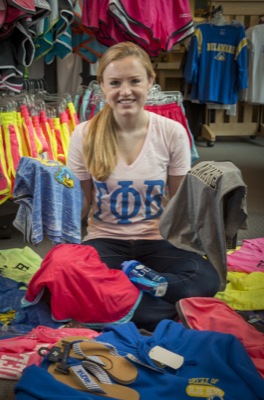 Pinterest contest winner
'Trendy Hens' contest winner selected as part of successful Pinterest launch
11:16 a.m., May 6, 2013--The University of Delaware launched its official Pinterest page this spring with five new UD-inspired boards and an interactive fashion contest. 
UD sophomore Mary Kate Griffin was just one of hundreds from the campus community who cast a vote for their favorite UD-inspired outfit on the newly minted "Trendy Hens" fashion board. 
From graduates, faculty
As it neared time for the processional to open the University of Delaware Commencement ceremonies, graduating students and faculty members shared their feelings about what the event means to them.
Doctoral hooding
It was a day of triumph, cheers and collective relief as more than 160 students from 21 nations participated in the University of Delaware's Doctoral Hooding Convocation held Friday morning on The Green.
During launch week, viewers could cast their vote by liking, repining or commenting on their favorite outfit, automatically entering to win a prize courtesy of the Barnes and Noble UD Bookstore.
The outfits featured on the "Trendy Hens" board — styled with garments from the UD Bookstore and modeled by students — received more than 600 total votes during the contest. With 226 votes, the winning "women's classroom" look beat out a game day look, fitness outfit and an outdoor ensemble.
Griffin, an active Pinterest user, was randomly chosen as the contest winner by a representative at UD's Office of Communications and Marketing. She received a fashionable outfit from the UD Bookstore, inspired by an ensemble seen on the "Trendy Hens" board.
"There is so much to look at on Pinterest and sometimes it can get a little overwhelming," said Griffin. "Having a Pinterest page solely dedicated to UD narrows down topics college students need to see while personalizing the page for the UD community." 
Besides the UD fashion-oriented "Trendy Hens" Pinterest board, other standout boards include "UD Weddings," featuring University of Delaware themed wedding photos, invitations and cakes submitted by UD alumni and "Health and Fitness," featuring tips from Healthy Hens and UD Fitness.
New boards will be added continuously in hopes of providing inspiration for the Blue Hen community. Follow the University of Delaware on Pinterest at www.Pinterest.com/UDelaware. 
Article by Julie Cohen
Photo by Kathy F. Atkinson