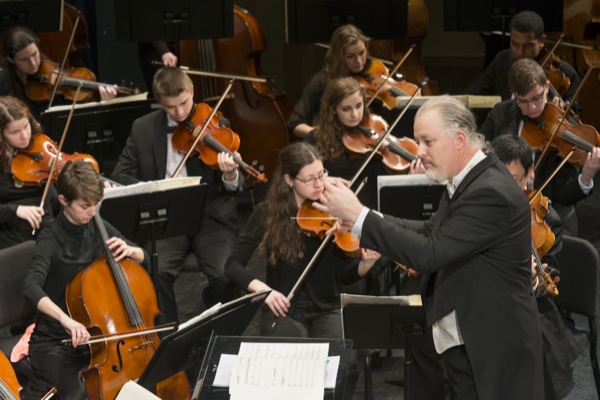 International orchestra
UD's symphony orchestra embarks on first international tour to Colombia
11:02 a.m., May 20, 2013--An ongoing musical partnership with universities in Colombia will culminate with the University of Delaware Symphony Orchestra's first international tour to Bogotá later this month, where nearly 70 UD musicians will join 50 Colombian students to perform pieces that blend both musical traditions. 
The three-year partnership previously included faculty from UD and Pontificia Universidad Javeriana traveling abroad to guest conduct orchestra performances but never featured a direct student component. 
Fulbright awards
Three University of Delaware students and an alumna have received word this spring that they will travel abroad as part of the newest class of Fulbright Student Program award winners.
Peace Corps plans
Two University of Delaware students, John McCarron and Bridgette Spritz, have been selected as Peace Corps volunteers and will serve in Ghana and Rwanda.
Funded by the Institute for Global Studies and individual faculty and staff in music and the College of Arts and Sciences, the May 28-June 3 trip will include 68 undergraduate and graduate students from the University's 85-member orchestra. While overseas, they will interact with their Colombian counterparts, eating, traveling and rehearing together. 
"It's an opportunity to immerse in another culture," says orchestra director James Anderson. "And music is a perfect vessel in which to communicate.  It is the language we all speak."
During the eight-day trip, UD students will join 27 students from Central University and 23 students from Javeriana for three performances, the final of which will take place at a nearby town's famed and spectacular Salt Cathedral, which seats nearly 2,000. 
The concerts will include works by Sir Edward Elgar, Fredrick Delius, Howard Hanson, and last year's Pulitzer Prize composer, Kevin Puts. Each will feature an encore performance of Colombia the Beautiful.
The main pieces, notable for their American energy and hints of jazz, are "terrific introductions to some lesser known American works," Anderson says. 
And performing in Colombia, he adds, will expose UD students to the "infectious, passionate Latin spirit."
"As musicians, there are clear stylistic difference," says Anderson, who hopes to bring students from Colombia to UD next year. 
Long-term, he sees this three-year cycle — of establishing a partnership in the first year, bringing UD musicians overseas in the second, and bringing foreign students to UD in the third — as a model to build relationships across the world.
"This project is about perspective," Anderson says. "It's stepping out of your comfort zone to become better performers, better musicians and better citizens of the world." 
About the Symphony Orchestra
The University of Delaware Symphony Orchestra (UDSO) is a highly acclaimed ensemble comprised of the finest undergraduate and graduate students from the distinguished Department of Music. The UDSO presents five to six concerts a year and performs literature from the standard orchestral repertoire spanning the baroque to the contemporary, as well as collaborations with music department faculty, choral ensembles, and UD Opera Theatre.
Recent performances have included masterpieces such as Brahms Symphony No. 1, Shostakovich Symphony No. 5, Hanson Symphony No. 2, Beethoven Symphony No. 8, as well as works from contemporary composers such as Kevin Puts, Jennifer Higdon, Michael Daugherty, Eric Ewazen and Christopher Theofanidis. Featured Colombian guest artists with the UDSO have included maestro Luis Vicaria of Javeriana University and composer/performer Samuel Torres.
Article by Artika Casini
Photo by Evan Krape