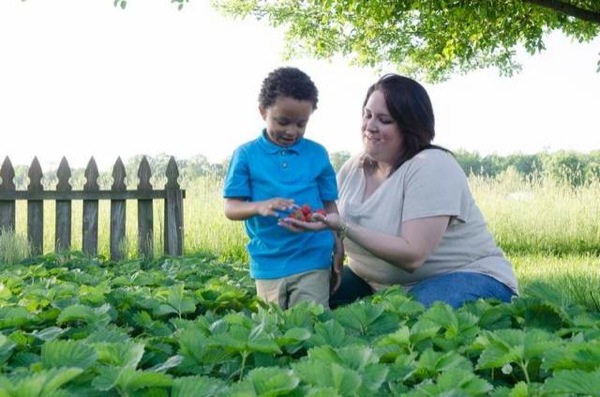 Native Delaware: Playtime
UD Cooperative Extension specialist shares favorite spots for outdoor fun
2:12 p.m., May 31, 2013--Dot Abbott has fond memories of picking strawberries with her dad as a child. They would head out on early summer weekends, with buckets that her grandfather had made, and not return home until they had 12 quarts – enough for homemade jam, shortcakes, and eating out of hand.
She recalls spotting lady beetles on the plants, hearing birdsong in nearby woods, and noticing that the berries hidden under leaves weren't fat, red and juicy the way that berries exposed to the sun were.
From graduates, faculty
As it neared time for the processional to open the University of Delaware Commencement ceremonies, graduating students and faculty members shared their feelings about what the event means to them.
Doctoral hooding
It was a day of triumph, cheers and collective relief as more than 160 students from 21 nations participated in the University of Delaware's Doctoral Hooding Convocation held Friday morning on The Green.
Today, on summer weekends, Abbott has a hunch that many kids are inside, in front of TV or computer screens, rather than outside enjoying activities with their families.  
"Staying inside is the default mode; it's the new norm for most kids. A child is three times more likely to play video games regularly than to ride a bike," says Abbott, a renewable resources agent with University of Delaware Cooperative Extension. "But studies show that regular, unstructured playtime in nature makes kids smarter, calmer, more self-disciplined and cooperative."
Plus, getting outside is just plain fun – especially during the long, sunny days of summer. If you're short on ideas of where to go and what to do, Abbott is happy to help. Here's what she suggests for outdoor fun this summer: 
Eerie evenings at Trap Pond
"It looks like a lake [but] a short paddle away, it begins to turn into a swamp and there are loads of lily pads and bald cypress trees and the water starts looking really murky and it feels like you might run into an alligator or something," a reviewer wrote of Trap Pond State Park on TripAdvisor.com. "You definitely don't want the canoe to tip over in here."
Abbott says, "Boating amid the bald cypress trees at Trap Pond is kind of eerie, especially at night or on foggy mornings. As they get older, it can be harder to get kids excited about family outings but even middle schoolers and teens should love a night boat ride at Trap." 
Families can learn about "the eerie sounds and spooky creatures" of Trap's cypress swamp during special evening pontoon tours June 12, July 10 and Aug. 14. The state park, near Laurel, is home to the northernmost natural stand of bald cypress trees in the U.S.
The park also offers daytime pontoon tours on weekends, as well as guided kayak and canoe eco-tours. Plus, you can rent rowboats, pedal boats, canoes and kayaks and go out on your own. Boat rides and rentals are available through Labor Day weekend.
For more info, call the park at 875-5153.
Who knew? Fishing at state forests
Delaware's state forests are one of the best-kept secrets for family fun. They're managed primarily for forest management, so don't expect to see a concert stage or water park, like at some of the state parks. But you will find trails for walking, running, biking or horseback riding at Blackbird and Redden state forests, plus ponds for catch-and-release fishing. Taber, the smallest of the three state forests, is used most often for hunting.
Abbott likes the fact that Blackbird, located on the border of New Castle and Kent counties, has a paved nature trail designed for wheelchair accessibility. To learn more about the state forests, go to this website.
Forget Route 66 – Route 9 is where it's at
If you're bored some Sunday afternoon, hop in the car and head to Route 9. This 52-mile stretch of meandering country road parallels the western shore of the Delaware River and Bay and offers views of the largest area of preserved coastal marshland on the East Coast.
There are several great spots to stop and view wildlife on the route, says Abbott, including the Port Penn Interpretative Center, where she enjoys taking a short hike into the marsh. At the other end of Route 9, close to the John Dickinson Plantation in Dover, is the new Delaware National Estuarine Research Reserve (DNERR) Education Center at St. Jones Reserve. Like Port Penn, it features a boardwalk into the marsh. And don't miss Bombay Hook Wildlife Refuge, near Smyrna, says Abbott. There are several trails through this 16,000 acre refuge, including the Black Swamp Trail, which is handicapped accessible. Plus, kids will love the fact that three of the trails have observation towers.
Overnight camping at state parks
Tell ghost stories around a campfire on the beach. Gaze at the stars with a telescope (plus, with a naturalist who can tell exactly what you're looking at). Snuggle into sleeping bags as your kids enjoy their first campout of the summer – or perhaps their first campout ever.
You can do all this with "Delaware Outdoor Family," a new overnight camping program offered at Bellevue, Brandywine Creek and Delaware Seashore state parks this summer. It's offered in conjunction with the Children in Nature/No Child Left Inside initiative, a state effort to get kids outside more.
Family camping on your own is available throughout the summer at Lums Pond, Killens Pond, Cape Henlopen, Delaware Seashore and Trap Pond state parks. But "Delaware Outdoor Family" is a guided experience, led by park staff, giving campers access to astronomy programs and other special experiences. For more information, go to the state parks website.
Article by Margo McDonough
Photo by Danielle Quigley