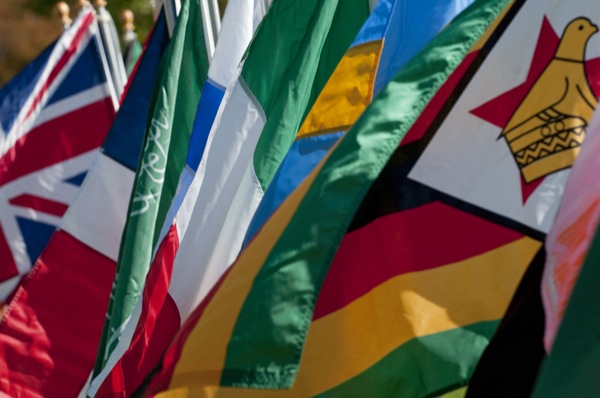 May 20: International Caucus
International Caucus sets reception in appreciation of UD's global community
12:25 p.m., May 7, 2013--The University of Delaware International Caucus, in co-sponsorship with the Institute for Global Studies, invites faculty and staff to a reception on Monday, May 20, to acknowledge their contributions to a welcoming, global community at UD. International faculty, postdoctoral scholars and staff are especially invited. 
The reception will provide an opportunity to meet members of UD's campus community from across the globe in a relaxed atmosphere and to celebrate the end of an eventful academic year.
Fulbright awards
Three University of Delaware students and an alumna have received word this spring that they will travel abroad as part of the newest class of Fulbright Student Program award winners.
Peace Corps plans
Two University of Delaware students, John McCarron and Bridgette Spritz, have been selected as Peace Corps volunteers and will serve in Ghana and Rwanda.
The reception will be held May 20, from 4:30-6 p.m., in Elliott Hall at 26 E. Main St. RSVP via email to Marcia Hartline at hartline@udel.edu by Tuesday, May 14.
The International Caucus works in concert with University offices to provide opportunities for international faculty and staff to socialize and network, and make them aware of both resources and opportunities for personal and professional growth. 
The International Caucus is one of nine caucuses; it collaborates with other caucuses, groups, programs and units to support and advance diversity and equity efforts on campus.
Caucus membership is open to all UD faculty and staff. To join this and/or other caucuses, visit this website.