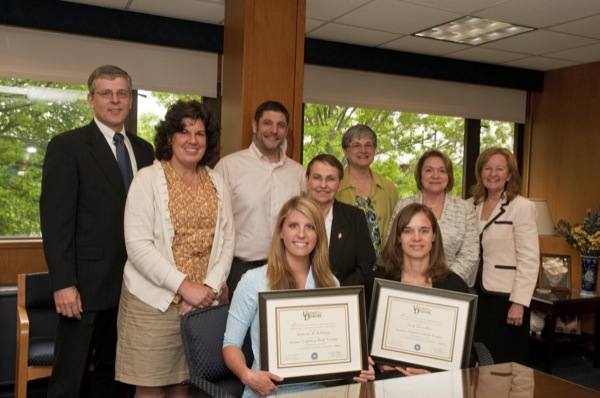 Working toward wellness
First recipients of health coaching certificate honored
8:07 a.m., May 16, 2013--Kate McCleary and Emily Moore, the first two recipients of the health coaching certificate at the University of Delaware, were honored at a ceremony in the College of Health Sciences on Wednesday, May 15.
The post-baccalaureate program is aimed at preparing health professionals to work in a clinical setting as part of a team that facilitates behavior change among at-risk patients, decreases demand for health care services, and reduces morbidity across the lifespan.
From graduates, faculty
As it neared time for the processional to open the University of Delaware Commencement ceremonies, graduating students and faculty members shared their feelings about what the event means to them.
Doctoral hooding
It was a day of triumph, cheers and collective relief as more than 160 students from 21 nations participated in the University of Delaware's Doctoral Hooding Convocation held Friday morning on The Green.
"This is a turning point that symbolizes a major change coming about with health care reform," said health sciences dean Kathleen Matt. "In the future, it's going to be all about health instead of medical care, which is a perfect fit for our college because we already have the whole skill set."
Mike Peterson, chair of UD's Department of Behavioral Health and Nutrition, said that health coaching is filling an important gap in modern health care. "What do you do when you leave the clinic or the hospital?" he said. "That's when health coaches can step in and help people make the transition." 
Both of the certificate recipients are also earning master's degrees, McCleary in health promotion and Moore in human nutrition.
"My passion is corporate wellness," McCleary said. "It's not enough to just tell someone what to do and leave them alone to do it.  As a health coach, my job is to build a one-on-one relationship with my clients to help them succeed.  In turn, their feedback will help me to do my job better in the future."
Moore said that completing the health coaching certificate builds on what she has already learned as a registered dietitian. "I'm already using health coaching skills in my work as a nutrition counselor in a physician's office," she said. 
The certificate program was launched in 2011 with an education pilot grant from the Delaware Health Sciences Alliance. Peterson said that UD also received valuable insight from physicians and health professionals at Christiana Care and Nemours/A.I. duPont Children's Hospital in identifying the skill sets and competencies needed for the certificate.
"We want to see health coaches affiliated with doctor's offices and clinics," Peterson said, "so it's important for us to have their input as we train students for careers in this field. Clearly, there is a need for qualified and well-trained health coaches, and the University of Delaware is leading the way. Kate and Emily are exceptionally talented and will make a tremendously positive impact on those they serve."
Article by Diane Kukich
Photo by Doug Baker