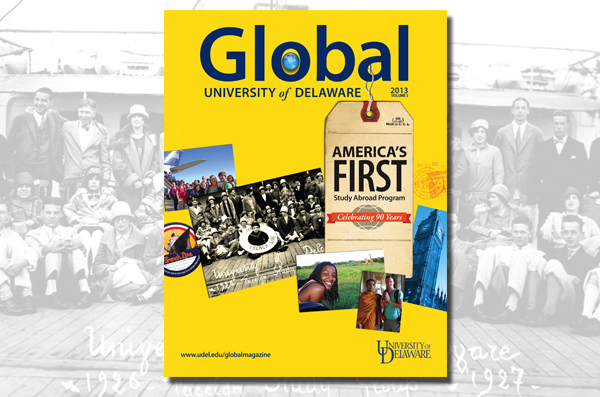 Global magazine
Global magazine spotlights UD innovation in study abroad
2:33 p.m., May 24, 2013--A new edition of the University of Delaware's Global magazine celebrates the 90th anniversary of the UD's first Foreign Study Group to go overseas — a bold innovation in 1923 that would launch the concept of study abroad in America. 
Besides celebrating the accomplishments of the eight students and their professor, Raymond Kirkbride, who formed UD's inaugural group, this issue of UD Global highlights current UD students and recent alumni, showcasing the myriad ways that study abroad has impacted their lives, from propelling them to fulfilling careers to finding true love. 
Fulbright awards
Three University of Delaware students and an alumna have received word this spring that they will travel abroad as part of the newest class of Fulbright Student Program award winners.
Peace Corps plans
Two University of Delaware students, John McCarron and Bridgette Spritz, have been selected as Peace Corps volunteers and will serve in Ghana and Rwanda.
Also in this issue:
More than a quarter-million students across the United States went on study abroad programs last year. That's a lot of travel by airplanes, one of the most polluting means of transportation. Does study abroad cost too much? UD professor S. Ismat Shah responds to that question in his Perspectives column, "What Price Ignorance?"
Did you know that UD is growing partnerships in Africa? Learn about work in Nigeria, Namibia and a UD delegation's recent visit to South Africa as part of a State of Delaware mission. Assisting the UD team was Sibusiso Vil-Nkomo, who received his doctorate from UD, became the first black rector of the University of Pretoria and now heads a leading think-tank in South Africa.
As part of an international collaboration involving the Arab Image Foundation in Beirut, the Getty Conservation Institute and the Metropolitan Museum of Art, UD experts in the Department of Art Conservation are helping the Middle East to build a cadre of photograph conservation professionals where few currently exist. "Reflections of the Middle East" shows some of the rich photographic works that are being preserved in over 10 participating nations.
In exciting new initiatives, the Confucius Institute at UD is working with the state of Delaware on a Chinese language program for kindergarten students, and a new Global Living Community led by the English Language Institute is bringing international and American students together to help international students more easily adjust to the U.S., and American students to better understand other cultures.
Where is the UD Symphony Orchestra heading at the end of this month? Find out on the World Traveler page.