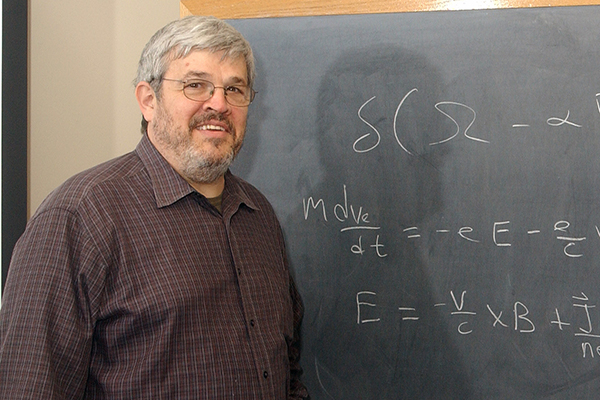 Fulbright awardee
Matthaeus receives Fulbright award to teach in Argentina
10:07 a.m., May 8, 2013--Willliam Matthaeus, professor of physics and astronomy at the University of Delaware, has received a Fulbright specialist award to teach at the University of Buenos Aires this September. 
During his 28-day visit, Matthaeus will instruct an intensive, three-week course on hydrodynamic and magnetohydrodynamic turbulence for graduate students in physics, atmospheric sciences, oceanography, engineering and computer sciences. The topics have applications to weather forecasting, space physics and industrial flows. 
Fulbright awards
Three University of Delaware students and an alumna have received word this spring that they will travel abroad as part of the newest class of Fulbright Student Program award winners.
Peace Corps plans
Two University of Delaware students, John McCarron and Bridgette Spritz, have been selected as Peace Corps volunteers and will serve in Ghana and Rwanda.
Matthaeus also will deliver a seminar on trending topics in fluid turbulence for professors and teaching assistants, as well as present current topics in space physics at a public conference. 
The University of Buenos Aires noted in its project application for Matthaeus' Fulbright appointment that the UD professor participated in its Tenth J.J. Giambiagi Winter School on fluid dynamics in 2008, which attracted 100 graduate students from universities in Argentina and from several other Latin American countries. The university noted that its upcoming course, "given by one of the world-renowned experts on this subject, will make a big impact on our young graduate students."
The University of Buenos Aires is the largest university in Argentina and the largest university by enrollment in Latin America, with more than 289,000 undergraduate and graduate students, 14,000 doctoral students, and over 28,000 faculty members. 
Its School of Natural and Exact Sciences (Facultad de Ciencias Exactas y Naturales, FCEN), where Matthaeus will teach, was founded in 1865 and has 13 departments, covering physics, mathematics, atmospheric sciences, chemistry, biology, computer sciences and geology. Nearly one-quarter of the doctoral degree recipients in science in Argentina obtained their degree from the school, including two Nobel Prize winners. 
The Fulbright Program, the flagship international educational exchange program sponsored by the U.S. government, is designed to "increase mutual understanding between the people of the United States and the people of other countries." 
Project activities of the Fulbright Specialist Program focus on strengthening and supporting the development needs of host institutions and may range from short-term lecturing to teacher training, collaborating on curriculum planning, and aiding institutional and faculty development. 
For more information, visit the Fulbright Scholar Program page on the website of UD's Institute for Global Studies. 
Article by Tracey Bryant
Photo by Duane Perry