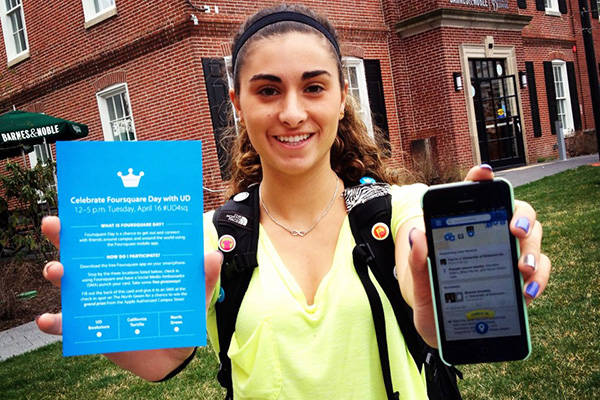 Foursquare Day success
More than 200 people participated in this year's Foursquare Day event
12:59 p.m., May 8, 2013--The University of Delaware community celebrated the fourth annual International Foursquare Day on April 16.
Participants used the Foursquare mobile app to "check-in" to three different locations across campus: the Barnes and Noble UD Bookstore, California Tortilla on Main Street, and The Green. Social Media Ambassadors (SMAs) monitored check-ins and awarded UD and Foursquare giveaways at each check-in spot.
From graduates, faculty
As it neared time for the processional to open the University of Delaware Commencement ceremonies, graduating students and faculty members shared their feelings about what the event means to them.
Doctoral hooding
It was a day of triumph, cheers and collective relief as more than 160 students from 21 nations participated in the University of Delaware's Doctoral Hooding Convocation held Friday morning on The Green.
This year's Foursquare Day celebration attracted more than twice the number of participants than the previous year, with 220 total check-ins. Forty-three students who checked-in to all three locations were entered to win the grand prize, a $100 gift card to the Apple Authorized Campus Store. The lucky winner this year is senior Andrew Dover.
Dover has been an active Foursquare Day participant since the event first came to campus in 2011. He says he uses the app to find discounts and deals at local vendors, to keep track of his friends on campus and to let his friends know where he is at any given time.
"I find that Foursquare is about exploring, getting out there, and trying to find something new ... it has taken the social media platforming to a whole different level, and I absolutely love it," Dover said.
The UD social media team hopes Foursquare Day involvement continues to increase with next year's celebration, and plans to feature more check-in opportunities at events throughout the 2013-14 academic year.
Download Foursquare for free at this website. 
Article by Anna Montain