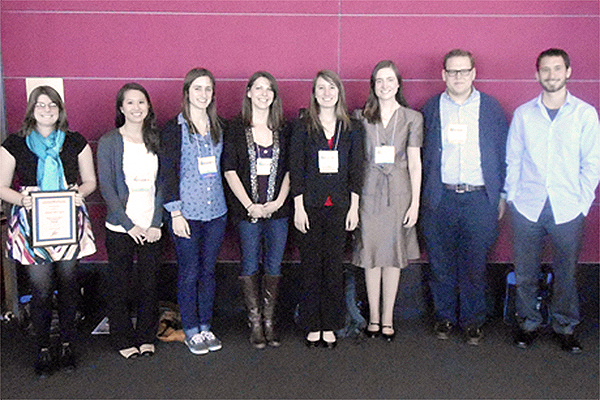 For the Record, May 10, 2013
University community reports honors, presentations, publications
11:51 a.m., May 10, 2013--For the Record provides information about recent professional activities of University of Delaware faculty, staff, students and alumni.
Recent honors, presentations and publications include the following:
From graduates, faculty
As it neared time for the processional to open the University of Delaware Commencement ceremonies, graduating students and faculty members shared their feelings about what the event means to them.
Doctoral hooding
It was a day of triumph, cheers and collective relief as more than 160 students from 21 nations participated in the University of Delaware's Doctoral Hooding Convocation held Friday morning on The Green.
Announcements
Rakesh Agrawal, a UD alumnus and Winthrop E. Stone Distinguished Professor in the School of Chemical Engineering at Purdue University, has been named to the American Academy of Arts and Sciences.
Grants
Eric Tranby, assistant professor of sociology and criminal justice, has been awarded a National Science Foundation grant to conduct a major national survey on race and religion in American life. Working with collaborators at Augustana College and the University of Minnesota, the project will build on earlier research known as the American Mosaic Project. The new study will survey a representative sample of 3,000 Americans this summer and fall, seeking to learn how race and religion shape how Americans make sense of their lives, understand who is like them and who is different and think about the broader society and public good.
Honors
Two alumni from the Department of Chemical and Biomolecular Engineering have earned 2013 Department of Energy Early Career Awards. William A. Tisdale, the Charles and Hilda Roddey Career Development Assistant Professor of Chemical Engineering at Massachusetts Institute of Technology (MIT), will explore a novel methodology for visualization of ultrafast electronic processes at interfaces. Tisdale earned a bachelor's in chemical engineering (magna cum laude) at UD in 2005. Michelle A. O'Malley, assistant professor of chemical engineering at University of California, Santa Barbara, will develop new experimental tools to engineer anaerobic fungi for lignocellulose breakdown and biofuel production. O'Malley earned her doctoral degree in chemical engineering at UD in 2009.
Two undergraduates who presented research at the annual Experimental Biology Meeting in Boston last month received Honorable Mention recognition for their work. Zachary March and Allison McCague gave presentations in the Undergraduate Poster Competition category. UD students and faculty members have attended the conference for 14 years, but their plans for this year's event were delayed because of the April 19 lockdown of the Boston area that occurred during the manhunt for the marathon bombing suspects. Despite a late arrival in the city, the UD students were able to compete at the conference.
James Devanna, a UD student in the Alfred Lerner College of Business and Economics, was selected a finalist in the second annual Long Island Young Entrepreneur Challenge sponsored by FrontStreet Facility Solutions and Capital One Bank. In his application, Devanna presented a business plan for an extensive college exam database. The model works with professors to better prepare students for the type of test style that can be expected by offering sample exams from past semesters. "The challenge has been a good way to get my idea out and begin the process of exploring its potential," Devanna said of his participation. "I have appreciated the opportunity to gain experience as an entrepreneur."
Presentations
Rudi Matthee, John and Dorothy Munroe Professor of History, presented "The Ottoman-Safavid War of 986-998/1578-1590: Origins and Causes," at a one-day symposium, "16th-20th-century Ottoman Persian Exchanges," held at the University of Pennsylvania, Philadelphia, April 26.
Tracy Mann, doctoral student in the School of Public Policy and Administration, presented "Barriers and Facilitators to the Identification and Diagnosis of Autism in Delaware" at the Pacific Rim International Conference on Disability and Diversity, April 29, Honolulu, Hawaii.
Hannah Lee, assistant librarian, and Shelly McCoy, head, both of the Student Multimedia Design Center, University of Delaware Library, co-presented "Maker Spaces Workshop" sponsored by the Delaware Division of Libraries at the Dover Public Library on April 16.
Mark Samuels Lasner, senior research fellow, Special Collections Department, University of Delaware Library, presented "Dandyism" at the Providence Athenaeum in conjunction with the loan of materials to the exhibition, "Artist/Rebel/Dandy: Men of Fashion," May 9, in Providence, R.I.
Publications
Based on the responses of its reviewers, in late March, a Royal Society of Chemistry journal designated a contribution from UD's Department of Chemistry and Biochemistry a "Dalton Transactions Hot Article." Titled "A well-defined model system for the chromium-catalyzed selective oligomerization of ethylene," the paper reports a series of structurally characterized organometallic molecules that serve to model active intermediates in a highly selective and commercially important catalytic transformation of this smallest and most abundant of all olefins. The research was carried out by former graduate students Wesley Monillas and John Young in the laboratory of Klaus Theopold, professor of chemistry and biochemistry. Thepolod said the National Science Foundation-sponsored study benefited greatly from the use of single crystal X-ray diffraction, an experiment carried out in the X-ray diffraction lab headed by staff scientist Glenn Yap.
Rudi Matthee, John and Dorothy Munroe Distinguished Professor of History, published The Monetary History of Iran, from the Safavids to the Qajars (co-written with Willem Floor and Patrick Clawson), London: I.B. Tauris, 2013.
David Pong, professor emeritus of history and Asian Studies, has published a book chapter and a 52-page bibliographical essay. The book chapter is "To War or Not to War: Decisions for War in Late Imperial China (1870s-1900)" in Debating War in Chinese History, Peter Lorge (Vanderbilt), ed. Leiden and Boston:Brill, 2012), pages 191-236, and the bibliographical essay is "The Fall of the Qing, 1860-1912," Oxford Bibliographies in Chinese Studies, editor-in-chief, Tim Wright, New York, Oxford University Press, April 23, page 52.
To submit information to be included in For the Record, write to ud-ocm@udel.edu.