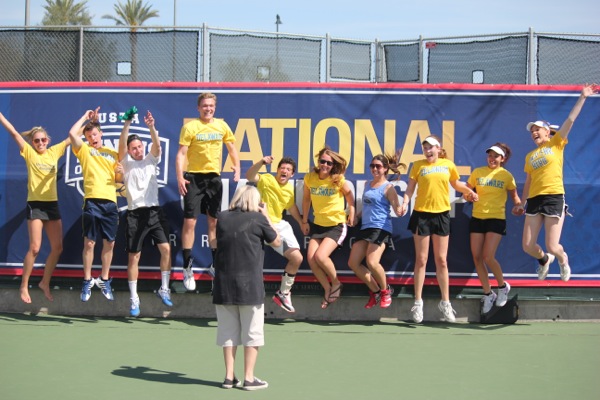 Club tennis
University's club team participates in Tennis on Campus nationals
8:27 a.m., May 1, 2013--The University of Delaware club tennis team recently participated in the U.S. Tennis Association's Tennis on Campus nationals in Surprise, Ariz.
The team was selected as one of the top 64 out of 600 collegiate club teams across the country.
Rower honored
University of Delaware junior Claire Brown has been named second team Collegiate Rowing Coaches Association All-Region.
Unsung Hero
The One Love Foundation has announced that University of Delaware men's lacrosse standout Elijah Conte has been selected as a winner of the 2016 YRL Unsung Hero Award.
Lexi Chlada, a sophomore and team president, said the club's competitors were excited to learn they had been selected for the event.
"We were more than ecstatic when we found out we made it. We really worked hard and trained all fall in order to achieve our main goal of the year -- making it to nationals," she said. "We were so determined and had some great matches at sectionals, the tournament that determines qualification for nationals, which eventually gave us the bid to Arizona."
Chlada said the team "ended up doing very well, making it to the bronze bracket" and in the end placing 44th out of 600 club tennis teams in the U.S.
Besides the actual competition, Chlada said the trip was filled with fond memories. "The experience was incredible. For many of us it was a once in a lifetime experience," she said, adding, "UD historically has been a very social team and we definitely lived up to that this year. We made friends from all over the country, including schools like the University of Cincinnati, Purdue University, Georgetown University and many, many more. Everyone was just so excited to be there that it made for a friendly, positive and overall enjoyable environment."
Hard work and close relationships helped the team reach nationals, Chlada said. "We couldn't have made it without all of us working together. We are so close and that helps bring out the best in all of us."
Chlada said team members who made the trip to Arizona included Bailey Flanagan, Monica Zakaria, Emily Barbey, Nikki Scaduto, Jesse Richfield, Brian Dunne, Alex Margolies, Davis Flanagan and Karie Simmons.
"Each of us has our own strengths but together they make for a force to be reckoned with," she said. "As president, I couldn't be more proud of my teammates; they really made me, the rest of our team, and other supporters proud to represent such a great school. I also am proud to say that we had tons of support from the rest of the team that had to stay back home and even parents that traveled all the way to Arizona to cheer us on."
Two of the UD players, siblings Bailey and Davis Flanagan, were featured in an article on the USTA website. The Flanagans played mixed doubles, and noted that their special connection helped them in the coed competition.
Photo courtesy of Richard Flanagan