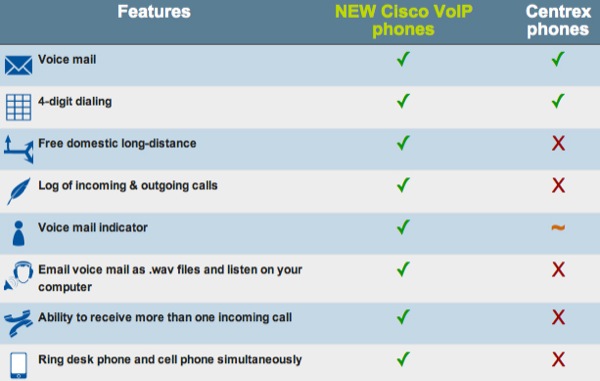 New UD phone service
University faculty members, staff to receive new phones
8:45 a.m., May 7, 2013--Faculty and staff will receive new phones when Voice over Internet Protocol (VoIP) technology comes to the University of Delaware campus this summer. This advanced voice service, with equipment by Cisco, is being installed by UD Telephone Services in partnership with Dimension Data. 
The new system will offer nearly all the same features as the current Centrex phone service (e.g., on campus four-digit dialing) with added benefits such as Caller ID and message waiting on every telephone, free domestic long-distance calling (including Alaska and Hawaii) and improved sound quality.
June 6: UDid It! Picnic
All UD faculty and staff members are invited to attend the annual UDid It! employee appreciation picnic, set from 11 a.m.-1:30 p.m., Monday, June 6, on The Green.
2FA protects you
If you are using two-factor authentication (2FA), even if a hacker has your password, your information is probably safe.
UD phone numbers will remain the same. More importantly, the cost of telephone service will not increase.
VoIP carries voice conversations as data packets, which are transmitted over the University network rather than a separate phone network. This eliminates the need to monitor and repair the existing, separate telephone infrastructure.
Dan Grim, Information Technologies' chief technology officer, explained that the current phone system's copper infrastructure is aging and is costly to repair, some of it being sixty years old or older. 
An official cut over to the new VoIP services is scheduled for mid-August. To prepare for the transition, beginning in June and continuing throughout the summer, a Telephone Services team will be installing the new phones in every office alongside the existing office phone. 
Faculty and staff should continue to make and receive calls on their existing telephone set, but may also place calls using their new telephone. All inbound calls will continue to be routed to the "old" equipment until the cutover in August. 
VoIP will provide a robust, yet cost-effective solution that will benefit the University in the long-term. 
UD's VoIP website will be updated as the project progresses, providing information on phone features, a tentative schedule, training resources and FAQs.
Article by Sarah E. Meadows