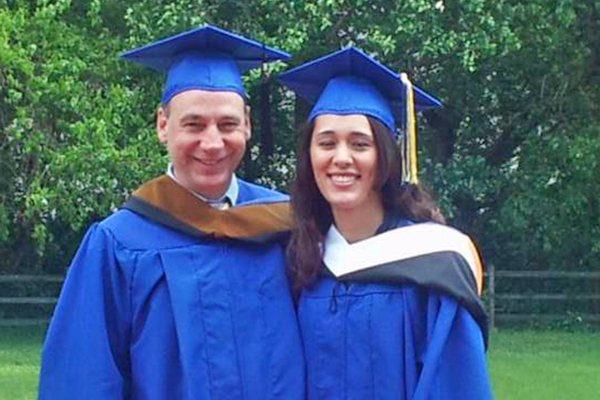 Double grads
UD Commencement sees the graduation of a father-daughter pair
1:42 p.m., May 30, 2013--For Paul Burch and Megan Burch, this year's University of Delaware Commencement was doubly special. While most parents sat in the crowd and proudly took pictures of their graduates, the father-daughter duo was able to celebrate each other's achievements on Saturday, May 25. 
Paul Burch, who received his MBA with a specialization in information technology, said he was excited to share the experience with his daughter, who received a bachelor's degree in criminal justice. 
'Resilience Engineering'
The University of Delaware's Nii Attoh-Okine recently published a new book with Cambridge University Press, "Resilience Engineering: Models and Analysis."
Reviresco June run
UD ROTC cadets will run from New York City to Miami this month to raise awareness about veterans' affairs.
"I think she was very excited," Burch said. "It's a novelty. For the last year and a half we all thought it would line up this way and kept joking about how the pictures would look."
Burch said he started taking classes at UD in the fall of 2009, shortly after receiving his undergraduate degrees in communications and applied technology from Drexel University. 
One of the main reasons he chose to pursue his graduate degree in Delaware was proximity. He said working at Verizon in King of Prussia and taking classes in Philadelphia became too stressful and he appreciated the close proximity of his home to UD. 
Burch said he decided to obtain an MBA to make his resume and education more well rounded. While he had 25 years of professional technical experience behind him, he said he did not know as much about the business side to his profession.
While the father-daughter pair graduated together, that was not how it was initially supposed to happen. Burch said due to Megan changing her major, her degree completion was pushed back a year and they were able to graduate together. 
"If she hadn't changed, she could have been done in three years," Burch said. "However, we both knew it would be a possibility from the start."
The Burch family are big supporters of the University. Burch's son (and Megan's brother) Alex, is a freshman at UD majoring in accounting and finance, and is projected to graduate in 2016. 
Although Megan is looking to further her education and is currently working at Christiana Hospital, Burch said he is looking forward to taking a break from education. 
"I've been going to school for the past nine years and now it's time for some time off to reevaluate," Burch said. "I would never say 'never' [to additional education] because I enjoy learning, but I need to take a break."
Burch said one of his favorite parts of being in school with his children was being able to bond over shared homework times. He said there was a period where he, his wife and his children were all in school and they would gather around the kitchen table to study and do homework together. He said it brought his family closer together and made it easier to connect with his children about their school lives. 
While his goal is to eventually teach technical skills, potentially as an adjunct professor at UD, Burch said he already uses the skills he acquired with his MBA at his current job. He said he looks forward to using them even more in the future and is excited to take them to whatever opportunities lie ahead. 
"By being a working professional and going to school, I was able to take work experience and use it in class as well," said Burch. "And I've definitely used bits and pieces from every class in my day-to-day work. Some of it is very obvious but some of it just sneaks in there and I think, 'Wow, I didn't know that would come in handy.'" 
Article by Rachel Taylor