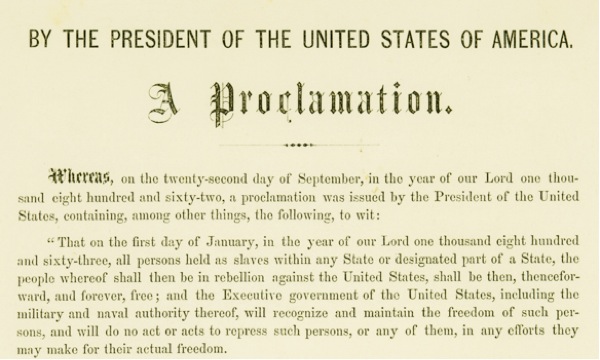 Alumni Weekend display
Library to display Emancipation Proclamation signed by Abraham Lincoln
1:21 p.m., May 29, 2013--The University of Delaware Library has announced that a broadside edition of the Emancipation Proclamation signed by Abraham Lincoln will be on view in the single case in the Information Room in the Morris Library in conjunction with the 2013 Alumni Weekend on Saturday, June 1, from 10 a.m. through 3 p.m.
Broadside editions of the Emancipation Proclamation were printed about June 6, 1864. This Emancipation Proclamation is one of 20 known of these 1864 special copies to still exist. 
From graduates, faculty
As it neared time for the processional to open the University of Delaware Commencement ceremonies, graduating students and faculty members shared their feelings about what the event means to them.
Doctoral hooding
It was a day of triumph, cheers and collective relief as more than 160 students from 21 nations participated in the University of Delaware's Doctoral Hooding Convocation held Friday morning on The Green.
History of the 1863 Emancipation Proclamation
On Jan. 1, 1863, Lincoln issued the Emancipation Proclamation, which declared that slaves in the Confederate states, with the exception of Tennessee, southern Louisiana and parts of Virginia, were now free. The Emancipation Proclamation also announced the Union's intention to enlist black soldiers.
Prior to the issue of the Emancipation Proclamation there were a series of laws passed intended to free slaves in Confederate states, called the Confiscation Acts. These acts enabled Union soldiers to seize Confederate property in occupied areas of the South. Slaves who became captives of the Union were set free. The ability to enforce these acts was limited. Lincoln had also proposed the idea of gradual compensated emancipation, which was unsuccessful.
The issuance of the Emancipation Proclamation brought about debates over the president's war powers and the legality of the proclamation. Despite these arguments, the Union went forward with recruiting and enlisting freed slaves. Black soldiers made up 10 percent of the Union army by 1865. 
'Emancipation and Its Legacies' exhibition
The exhibition "Emancipation and Its Legacies" is on view on the second floor of the Morris Library near Special Collections through Monday, June 3.
In honor of the 150th anniversary of the Emancipation Proclamation, this exhibition displays pamphlets, speeches, broadsides, manumissions, books and letters from the actions leading up to emancipation and the events that followed, to commemorate the legacy and enduring memory of this significant historic proclamation. 
In the "Emancipation and Its Legacies" exhibition, facsimiles of the Emancipation Proclamation and the 13th Amendment are on display. 
As described above, the library owns in Special Collections one of 20 known 1864 special copies in extant of the Emancipation Proclamation as well as one of only four extant copies of the 13th Amendment. 
An electronic version of the exhibition, "Emancipation and Its Legacies," is available online.