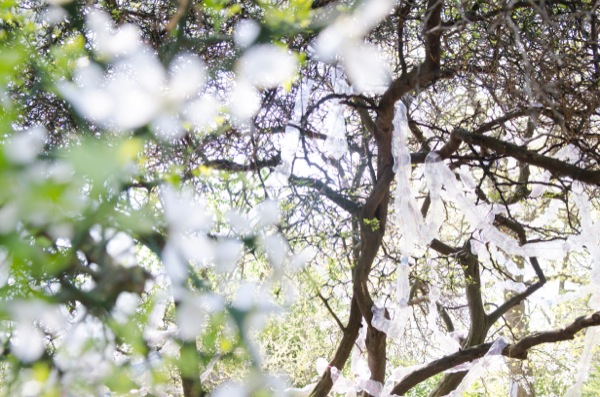 Recycled sculpture
Garden sculpture combines art and environmental awareness
4:07 p.m., May 3, 2013--Art in the Garden, the annual outdoor sculpture exhibition sponsored by the University of Delaware Botanic Gardens (UDBG), provides sculpture students an opportunity to showcase their creative work in an outdoor setting.
This year, Christine Stallone, a senior fine arts major, will be showcasing a sculpture titled Piled High in support of the Delaware Environmental Institute (DENIN) Student Programs Committee's bottled water awareness campaign. 
From graduates, faculty
As it neared time for the processional to open the University of Delaware Commencement ceremonies, graduating students and faculty members shared their feelings about what the event means to them.
Doctoral hooding
It was a day of triumph, cheers and collective relief as more than 160 students from 21 nations participated in the University of Delaware's Doctoral Hooding Convocation held Friday morning on The Green.
During the 2012 spring semester, the Student Programs Committee (SPC) launched the campaign, which is designed to help UD students become more informed consumers and to shed light on the unsustainable environmental, economic and health consequences of buying and drinking bottled water. 
Tyler Yoder, a junior environmental studies major and SPC member, had the idea to take the campaign in an artistic direction by collaborating with art students. The SPC reached out to Stallone to design and create a water bottle sculpture to help express how many single-use plastic water bottles people in the United States consume — 1,500 bottles per second, 80 percent of which end up in landfills.
"Issues discussed within the environmental field are regularly described by facts and statistics that are not always easy to grasp," Yoder explains. "Although astonishing, facts are not always compelling." 
Therefore, the sculpture is a way to visualize the effects of our consumption and engage the UD community in DENIN SPC's efforts to bring about a positive change on campus by focusing on sustainability. 
In order to create the sculpture, the SPC members set up water bottle collection sites and gathered bottles from dorms, gyms and academic buildings across campus. Through a series of stages, the sculpture was created. Stallone designed a linear sculpture, a signature of her creations. Stallone says she is "very interested in using line work to visually depict the connections and relationships of objects to their environments." 
Stallone uses art as a way to transform and reuse what we already have created — recycling at its finest. The sculpture is also visual understanding of the sheer amount of daily consumption of plastic bottles. 
"The collected water bottles are transformed into a playful, organic, growing structure of line work and translucence," Stallone says. "The color of string is meant to reflect the hues found in the natural landscape of the garden site." 
The Art in the Garden exhibition continues through May 8 in the UDBG, located outside of Townsend Hall.
Article by Amy Snelling
Photo by Danielle Quigley