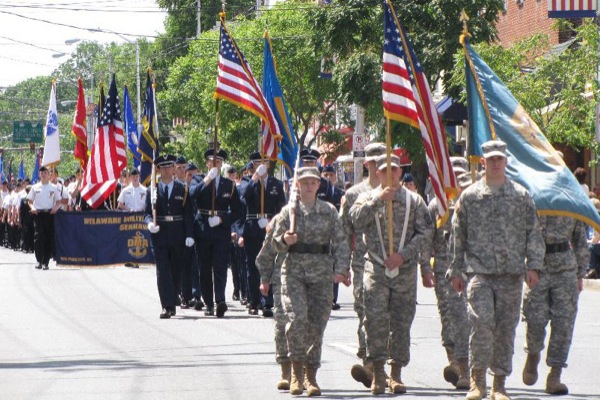 Memorial celebration
Newark to celebrate Memorial Day May 19
10:01 a.m., May 15, 2013--The city of Newark will celebrate Memorial Day on Sunday, May 19, with several events including a ceremony on The Green and the 78th annual Memorial Day Parade down Main Street.
Newark's celebration traditionally takes place the weekend before Memorial Day weekend to ensure that all the military units in the area are able to participate.
June 6: UDid It! Picnic
All UD faculty and staff members are invited to attend the annual UDid It! employee appreciation picnic, set from 11 a.m.-1:30 p.m., Monday, June 6, on The Green.
2FA protects you
If you are using two-factor authentication (2FA), even if a hacker has your password, your information is probably safe.
Activities begin at 1 p.m. on The Green with the Memorial Ceremony, including drills, the presentation of flags and patriotic music in honor of those who have lost their lives in service to our country. A wreath will then be laid at the memorial located on the Academy Building lawn. Immediately following the laying of the wreath, there will be a silent march on Delaware Avenue. 
The Memorial Day Parade will begin at Chapel Street with marching units representing all branches of the service, veterans' organizations, schools and community organizations parading down Main Street. Additionally, there will be a flyover of a vintage military airplane during the event.
Free parking will be available in municipal parking lots and UD's Pearson Hall parking lot until 4 p.m. The Trabant University Center parking garage will be charging a special event rate with a maximum of $5 for the entire day. All parking regulations are in effect, and lots not mentioned will have regular fees in effect.
The following roads will have detours and closures in effect from noon to 3:30 p.m.: 
• South College Avenue (Park Pl. to Main St.)
• Delaware Avenue (South Main to Academy Streets)
The following roads will have detours and closures in effect from 1:30 p.m. to approximately 3 p.m.: 
• Main Street (North College Avenue to Chapel Street)
• Academy Street (Delaware Avenue to Main Street)
• Chapel Street (Delaware Avenue to Main Street)
• Haines Street (Delaware Avenue to Main Street)