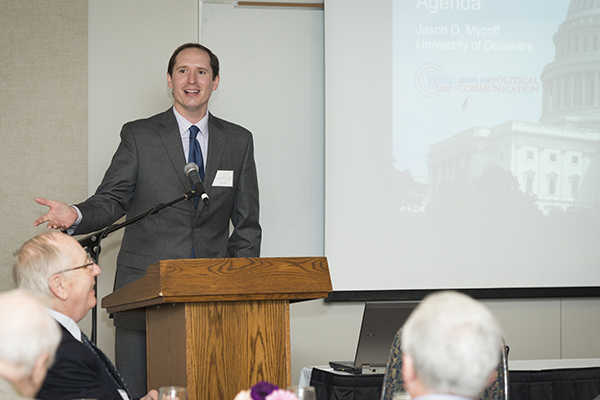 Talking politics
Mycoff discusses Obama, Congress during UDARF luncheon talk
4:11 p.m., March 12, 2013--Questions about whether Democratic President Barack Obama and Republicans in Congress can ever learn to get along were the focus of a presentation at the monthly meeting of the University of Delaware Retired Faculty Association, held Tuesday, March 5, in Clayton Hall.
The guest speaker was Jason Mycoff, associate professor of political science and international relations at UD, who was a moderator during the Delaware Debates on campus last fall. 
'Resilience Engineering'
The University of Delaware's Nii Attoh-Okine recently published a new book with Cambridge University Press, "Resilience Engineering: Models and Analysis."
Reviresco June run
UD ROTC cadets will run from New York City to Miami this month to raise awareness about veterans' affairs.
Mycoff has research interests that include Congress, the presidency and the judiciary, with special interests in committees, political leadership and the interaction between the legislative and executive branches. 
In his presentation, "President Obama and the 113th Congress: Setting the Agenda," Mycoff looked at the possible opportunities that Obama and Republicans might have to work together on the president's second term priorities. 
"President Obama succeeded in getting one of his major initiatives, the Affordable Care Act (ACA), passed by Congress during his first term," Mycoff said. "The major agenda items that I see for his second term include implementing the ACA, tax increases, immigration reform and climate change."
Mycoff noted that a fifth agenda item, gun safety, was not on the president's original list, but was forced on by events at Sandy Hook Elementary School in Newton, Conn., last December.
"I think President Obama is in a pretty strong position," Mycoff said. "He has a 50 percent-plus approval rating, and this gives him a comfortable cover and the notion that the voters are on his side."
While slightly more than half of those polled approve the president's performance, only 15 percent have a favorable opinion about the job Congress is doing, Mycoff said.
"The president's approval rating is not great, but it's much better than that of Congress," Mycoff said. "What the president is saying to the public as a result is, 'I'm the one you like. I'm the one who has the good ideas.'" 
Further strengthening Obama's position in pursing his second term agenda is his success at the polls last November.
"Of all the swing states that people were looking at as capable of deciding the election, the president won 10 and Mitt Romney took only one state, North Carolina," Mycoff said. "The president not only got 50 percent of the vote, but he remained standing in 10 of the 11 states where Romney tried to knock him down." 
While the Democrats increased their majority in the U.S. Senate, the Republicans kept control of the House of Representatives, where they hold a 234 to 201-seat majority. 
"Even with this, the president is in a relatively strong position," Mycoff said. "The question is, how can he transform this momentum into action on his second term agenda." 
Historically, for a variety of reasons, presidents have tended to be less successful in pursing agenda goals, Mycoff said.
"The first theory is that people feel presidents have already had four years in office and have used up all their great ideas," Mycoff said. "Another theory is that scandals usually happen during the second term because people have more time to get into trouble."
Examples of the "second term curse" include court-packing via the Judicial Procedures Reform Bill of 1937, by Franklin D. Roosevelt, the resignation of Richard Nixon, the Iran Contra scandal during Ronald Reagan's second term, Bill Clinton's impeachment and the failure of George W. Bush's initiative to reform Social Security, Mycoff said. 
"One of the reasons that presidential approval ratings fall during the second term is that people get tired of seeing the same faces after eight years," Mycoff said. "They also may tend to reach too far in pushing their agenda and use up their political capital in doing so." 
For his part, Obama has to do battle with the Republicans in Congress while contending with the myths about presidential second terms, Mycoff said. 
Despite a fairly divided electorate and Republican intransigence in Congress, Mycoff said there are signs that some compromise may be possible as the president pursues his priority programs. 
"Speaker of the House John Boehner said that there is a widow of opportunity for President Obama during the next 18 months when things will have to get done," Mycoff said. "The speaker said that 'this will take time, but if we're all striving for a solution, I'm confident that we can get it done.'" 
Article by Jerry Rhodes
Photo by Kathy F. Atkinson