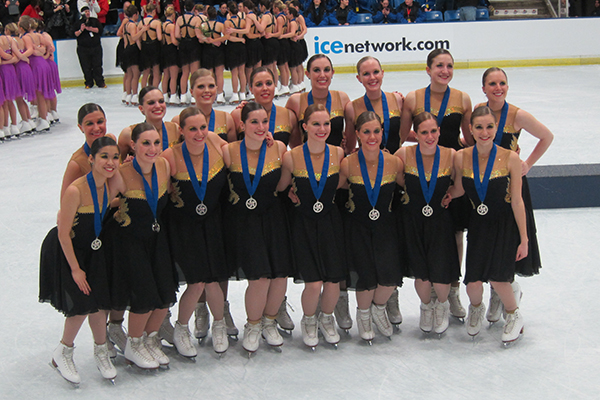 Silver skates
UD's Collegiate Synchronized Skating Team wins silver medal
11:36 a.m., March 5, 2013--The University of Delaware's Collegiate Synchronized Skating Team took home the silver medal at the U.S. Synchronized Skating Team Championships held Feb. 27-March 2 in Plymouth, Mich.
After having to take a medical bye at the Eastern Sectional qualifier due widespread illness among team members, the Blue Hens came back strong at nationals earning 84.11 points. 
Rower honored
University of Delaware junior Claire Brown has been named second team Collegiate Rowing Coaches Association All-Region.
Unsung Hero
The One Love Foundation has announced that University of Delaware men's lacrosse standout Elijah Conte has been selected as a winner of the 2016 YRL Unsung Hero Award.
Skating first in a group of 13 teams, the UD team skated a dynamic program to a compilation of pieces from the musical group Queen.
"That was the most energetic performance we have had in my four years on the team," Megan McGuiggan said. "Our goal was to put everything out there and have no regrets. We were devastated to not compete at Easterns, but what that taught us is that competing is a privilege and a blessing; it's something that should not be taken for granted. We wanted to put out such an energetic performance that it made up for our missed performance at Easterns."
UD competed against Miami University (Ohio), the University of Michigan, Michigan State University, Western Michigan University, Adrian College, the University of Massachusetts and the University of New Hampshire, to name a few.