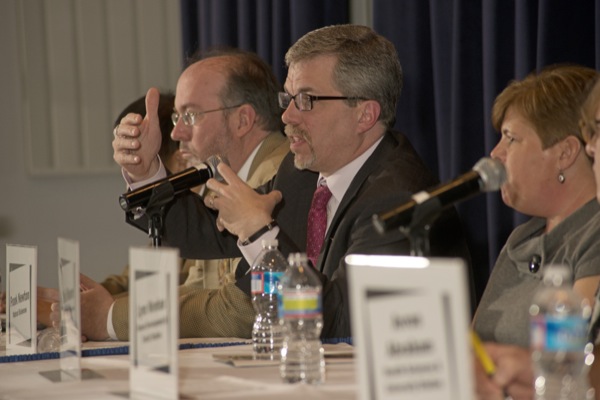 Majors and Minors on Main
Associate in Arts Program students preview Newark campus opportunities
9:51 a.m., March 19, 2013--Students soon to graduate from the University of Delaware's Associate in Arts Program visited the Trabant University Center on Friday, March 15, to learn of the many services and programs available to them when they continue their undergraduate careers on UD's Newark campus this fall.
The Majors and Minors on Main event drew about 200 students completing course requirements at UD's Associate in Arts Program locations in Wilmington, Dover and Georgetown. 
From graduates, faculty
As it neared time for the processional to open the University of Delaware Commencement ceremonies, graduating students and faculty members shared their feelings about what the event means to them.
Doctoral hooding
It was a day of triumph, cheers and collective relief as more than 160 students from 21 nations participated in the University of Delaware's Doctoral Hooding Convocation held Friday morning on The Green.
Jack Bartley, director of the Associate in Arts Program, welcomed students and urged them to take advantage of the panel presentations and the information fair.
"This is a real opportunity for you to explore what is available at UD and to open up some windows and doors and some pathways for you to take," Bartley said. "This is a great opportunity and a chance to get prepared."
Noting that luck has been defined as the situation when preparation meets opportunity, Bartley suggested that besides choosing a major, students might want to select a minor and also take courses that seem interesting. 
"Here is your opportunity to get prepared for all those doors that will be opened to you," Bartley said. "This is one of the last chances in your life where you will have the opportunity just to broaden your horizon and to become prepared for those opportunities that come along."
A panel of representatives from a wide variety of academic disciplines discussed choosing or changing majors and getting academic support from UD professionals when needed. 
The discussion also highlighted the broad spectrum of possibilities open to individuals with a liberal arts degree.
An information fair held in the Trabant Multipurpose Rooms afforded visitors the opportunity to meet contacts and talk with representatives from campus majors and departments. 
The Associate in Arts Program operates in each of Delaware's three counties, with classes held in Wilmington, Dover and Georgetown. 
The program includes small class sizes and other features designed to ensure academic success. Students take regular UD courses taught by University faculty, with the class work selected to fulfill not just requirements for an associate degree but also the core requirements for majors leading to a bachelor's degree.
Amber Rudolph, a sophomore psychology major from the Wilmington campus, said she found the panel discussion program informative and liked the idea of meeting with representatives outside her major area of interest. 
"It made me understand more about skill sets and that I don't have to be in one type of work and that I can apply psychology in any field that I' interested in," Rudolph said. "It will also be nice coming here as a junior, and I look forward to getting to know more people and becoming a more interactive person." 
Chadd Duranso, a sophomore at the Dover campus, welcomed the opportunity to talk with people about his criminal justice major.
"The best way is to come here and meet people and get to know them," Duranso said. "I'm also looking forward to being on my own and experiencing college life for what it is." 
Ryan Gross, an information systems major completing his associate in arts course work at Georgetown, said coming to the event gave him a chance to decide what he wants to do when he begins his junior year on the Newark campus.
"Coming here today gave me a chance to have some of my questions answered," Gross said. "It was especially nice to talk to students and people on the Newark campus."
Renee Fisher, academic adviser in the Associate in Arts Program, said that the discussion panel and the information fair included representatives from each of UD's seven colleges and nearly every major in the College of Arts and Sciences. 
"Every year I am amazed at how generous my colleagues are with their time for our students and our program — and I can never thank them enough," Fisher said. " This year was no exception. There were over 45 tables at this year's Fair. All seven colleges, 99 percent of the majors, and many University support services were represented."
Article by Jerry Rhodes
Photo by Duane Perry