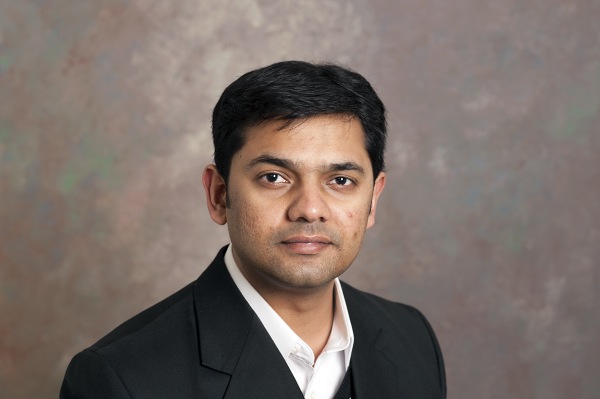 Research recognition
UD doctoral student's drug delivery dissertation earns recognition
1:07 p.m., March 5, 2013--How does the idiom go? What you don't know won't hurt you?
Vinu Krishnan, a University of Delaware doctoral student thinks, "What you can't see may actually help you."
Chronic wounds
UD's Millicent Sullivan and Kristi Kiick have received a $1.4 million grant from the National Institutes of Health for research that could provide a new approach to the treatment of chronic wounds.
Prof. Heck's legacy
The American Chemical Society is highlighting the legacy of the late Nobel laureate Richard Heck, the Willis F. Harrington Professor Emeritus of Chemistry at the University of Delaware with a digital tribute on its publications website.
Krishnan is studying nanotechnology-based drug delivery under the supervision of A.K. Rajasekaran, adjunct professor of materials science and engineering at UD, and director of basic cancer research program at the Nemours/A.I. duPont Hospital for Children, and Xinqiao Jia, UD associate professor of materials science and engineering and biomedical engineering.
It is work conducted at the nanoscale, sizes smaller than a human hair.
The team is working together to help reduce chemotherapy-induced side effects in children fighting acute lymphoblastic leukemia (ALL), the most common form of childhood cancer. 
"Although existing treatment procedures with chemotherapy have achieved five-year survival rates of 90 percent in children affected with ALL, more than 60 percent of patients either succumb to, or live the remainder of their lives with side effects," Krishnan explained. 
The research group has shown that the most commonly used leukemia fighting drug, Dexamethasone, can be successfully encapsulated in nanoparticles and used to treat leukemia. The study revealed that this approach improved survival and reduced disease symptoms in preclinical models. 
Krishnan's dissertation, which is a continuation of Rajasekaran and Jia's promising nanotechnology work, earned him the Gerald B. Grindey Memorial Scholar-in-Training Award from the American Association for Cancer Research (AACR).
Given annually, the award recognizes a scholar with the most "meritorious pre-clinical cancer research paper in the field."
Krishnan credits Rajasekaran and Jia with helping him "achieve a noble purpose in life." 
"This award enables me to chart out my career ahead — especially in terms of deciding whether to work in academia or industry," he concluded.
"I am very proud of Vinu and the team members who worked tirelessly on this study. Our next step is to validate this approach for future clinical trials and bring this to the bedside to treat children with cancer," said Rajasekaran.
Krishnan will present his paper, titled "Nanotechnology Based Drug Delivery in Childhood Leukemia Therapy: A Novel Approach to Reduce Side Effects," at the AACR poster presentation in Washington, D.C., April 6-10. 
About project support
The work is supported by the National Institutes of Health (RO1 DK56216, P20RR016458, P20 RR017716), Delaware Health Sciences Alliance, Andrew McDonough B+ Foundation, Caitlin Robb Foundation, Kids Runway for Research, Sones Brothers, Nemours Foundation and the University of Delaware.
Article by Gregory Holt
Photo by Kathy F. Atkinson