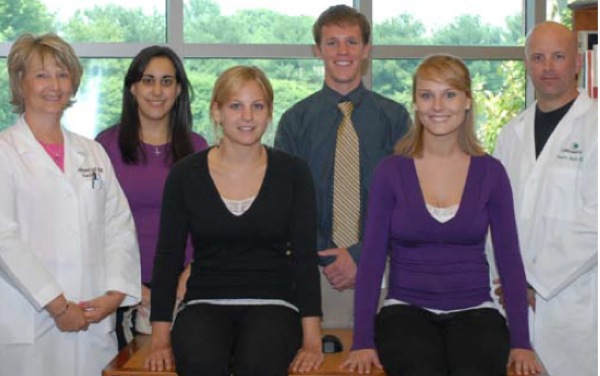 Research internships
Student research opportunities at Christiana Care announced
8:12 a.m., March 12, 2013--Delaware's National Institutes of Health INBRE program has announced a 2013 Summer Research Internship opportunity in collaboration with Christiana Care Health System (CCHS). Internships will take place May 28-Aug. 2.
Selected students will carry out projects with a focus on clinical research, working with physicians and staff members at the main Christiana Care campus.
Chronic wounds
UD's Millicent Sullivan and Kristi Kiick have received a $1.4 million grant from the National Institutes of Health for research that could provide a new approach to the treatment of chronic wounds.
Prof. Heck's legacy
The American Chemical Society is highlighting the legacy of the late Nobel laureate Richard Heck, the Willis F. Harrington Professor Emeritus of Chemistry at the University of Delaware with a digital tribute on its publications website.
"The chance to undertake research with practicing clinicians in a hospital setting is a significant opportunity for students, especially those who are interested both in advanced degrees in the health professions and in research," said Jeanette Miller, associate director of the Delaware INBRE program. "With the program at Christiana Care, Delaware INBRE can now support students all along the basic-translational-clinical research continuum."
Participants will present their research findings at a research symposium event at the end of the summer program. A link to the 2012 event is available online here.
The CCHS INBRE Summer Internship program is coordinated by Thomas Bauer, M.D., chief of thoracic surgery at the Helen F. Graham Cancer Center.
Interested students can begin the application process by registering through the online application system. The deadline for submitting applications to CCHS is March 15.
Students can also direct questions/inquiries to Tanya Dobrowolski at tDobrowolski@christianacare.org.
In addition to the CCHS opportunity, in summer 2013 the Delaware INBRE will support more than 30 undergraduate researchers in academic laboratories across the statewide network. 
About Delaware INBRE
Since its inception in 2001, the Delaware INBRE program has received a total of $45 million from the National Institutes of Health and has supported 63 lead scientists and more than 300 students in biomedical research. In addition, INBRE researchers have secured 75 research grants worth $27 million.
The Delaware INBRE is a partnership among six academic and medical institutions: the University of Delaware, Delaware State University, Delaware Technical Community College, Wesley College, Christiana Care Health System, and Nemours/A.I. DuPont Hospital for Children.  The program is supported by the state of Delaware and the National Institutes of Health, National Institute of General Medical Sciences, grant P20 GM103446.