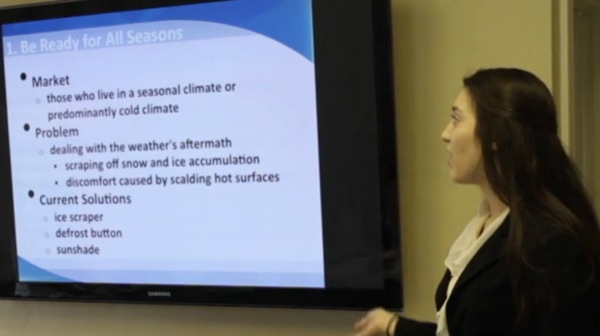 Perfect pitch
Horn Program in Entrepreneurship announces new competition
10:02 a.m., March 19, 2013--University of Delaware students who think they have a great business idea, want to put their digital prowess to the test, or can create the perfect video pitch might want to consider applying now to the Horn Program in Entrepreneurship's first entrepreneurial video pitch competition, "Perfect Pitch."
Launched by the Horn Program to promote student creativity and support entrepreneurial aspirations, the competition is open to all UD students.
From graduates, faculty
As it neared time for the processional to open the University of Delaware Commencement ceremonies, graduating students and faculty members shared their feelings about what the event means to them.
Doctoral hooding
It was a day of triumph, cheers and collective relief as more than 160 students from 21 nations participated in the University of Delaware's Doctoral Hooding Convocation held Friday morning on The Green.
"Perfect Pitch" calls for students to think of an original business idea and create a video that best describes that business concept to its target audience of investors, potential partners or future customers.
Effectiveness of the "Perfect Pitch" will hinge on the perceived value of the product or service being pitched, the vision of its creators and the tone of the pitch.
The Horn Program encourages students to work collaboratively and use creative elements (for example, music, props and visual aids) to support the core message of the pitch.
Entries are due on or before Wednesday, April 17, to hornprogram@udel.edu via the University's Dropbox Service. Each single entrant or group may submit only one video, which must be no longer than 90 seconds in length.
Live judging and an awards ceremony will be held Friday, April 26, from 4-6 p.m. in the atrium of Alfred Lerner Hall on UD's Newark campus.
For more information on this and other events, contact the Horn Program at hornprogram@udel.edu or visit the Venture Development Center on 196 South College Avenue.