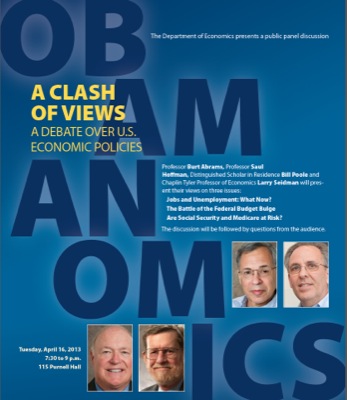 April 16: Economics panel
Faculty, distinguished scholar to discuss administration's economic policies
9:46 a.m., March 26, 2013--The University of Delaware Department of Economics will present a public panel discussion, "A Clash of Views: A Debate Over U.S. Economic Policies," on Tuesday, April 16, from 7:30-9 p.m. 
The event, which is free and open to the public, will be held in 115 Purnell Hall.
June 5: Blue Hen 5K
University of Delaware graduates planning to attend Alumni Weekend are encouraged to register for the annual Blue Hen 5K walk and run, which will be held Sunday morning, June 5.
June 6-9: Food and culture series
The 20th annual June Lecture Series at the Osher Lifelong Learning Institute at UD in Wilmington will be held June 6-9. Titled 'June a la Carte,' this year's program focuses on great political documents, feminism, world politics and a Newark cuisine sampler.
The panel includes Larry Seidman, Chaplin Tyler Professor of Economics; Saul Hoffman, professor of economics; Distinguished Scholar in Residence William Poole; and Burt Abrams, professor of economics. They will present their views on:
Jobs and Unemployment: What Now?;
The Battle of the Federal Budget Bulge; and
Are Social Security and Medicare at Risk?
The discussion will be followed by questions from the audience.