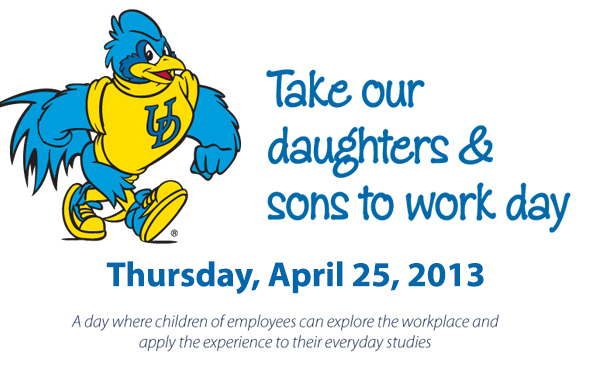 Wealth of possibilities
UD sets 'Take Our Daughters and Sons to Work Day' April 25
8:24 a.m., March 25, 2013--The University of Delaware's Office of Human Resources will sponsor "Take Our Daughters and Sons to Work Day" on Thursday, April 25. The deadline for registration is April 18.
Designed to be more than a career day, the program provides a forum for children to see what their parents do at work while also exposing them to a wealth of job possibilities and future opportunities.
June 6: UDid It! Picnic
All UD faculty and staff members are invited to attend the annual UDid It! employee appreciation picnic, set from 11 a.m.-1:30 p.m., Monday, June 6, on The Green.
2FA protects you
If you are using two-factor authentication (2FA), even if a hacker has your password, your information is probably safe.
The planning committee has organized many activities at which children can discover the power and possibilities associated with the important work that takes place at UD.
The "Take Our Daughters and Sons to Work Day" program will be open to children ages 8-18. The cost of this year's program is $5 per person and includes a T-shirt, boxed lunch, bottled water and a coupon for ice cream from the UDairy Creamery.
Participation is voluntary and at the discretion of the employees' supervisor.
Activities offered this year include:
Video studio tour and special effects;
Chemistry demonstration;
The magic of glass;
Instrument petting zoo;
Biotechnology in the real world;
Explore the properties of light; and
Digital storytelling.
For details and registration, visit the Human Resources website.