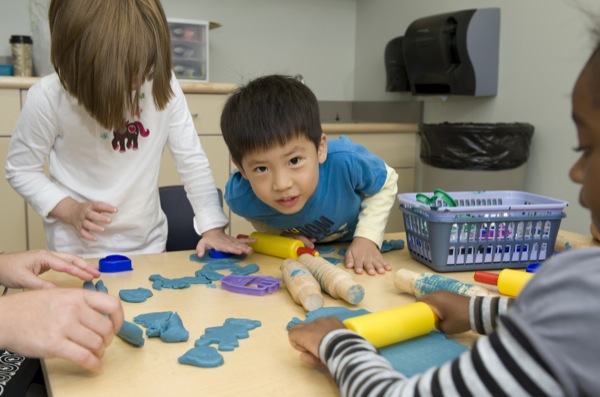 Value of play
University hosts international conference with focus on 'Play as a Pathway'
11:02 a.m., March 18, 2013--"Work and play are not opposite," according to Myae Han, associate professor in the University of Delaware's Department of Human Development and Family Studies. "They mutually support each other. Research has found that people are more successful at work if they incorporate play in their work. Play reduces work stress, increases positive climate, team building and cooperation."
As a passionate supporter of play, Han was eager to bring a national conference to Delaware and in March accomplished that goal with UD host of a joint conference with a focus on "Play as a Pathway." 
From graduates, faculty
As it neared time for the processional to open the University of Delaware Commencement ceremonies, graduating students and faculty members shared their feelings about what the event means to them.
Doctoral hooding
It was a day of triumph, cheers and collective relief as more than 160 students from 21 nations participated in the University of Delaware's Doctoral Hooding Convocation held Friday morning on The Green.
Han served as joint conference chair for the 39th annual international conference of the Association for the Study of Play (TASP) and the 26th conference of the American Association for the Child's Right to Play (IPA/USA).
Researchers from 12 countries and 24 states visited UD to address the topic of play from various research, theory and advocacy perspectives. Approximately 150 people attended the conference. 
The key message conveyed was that play crosses multiple disciplines, including education and health sciences.
"There's more focus on standards and testing in education now," Han said. "Teachers feel a lot of pressure to design their curriculum around structured learning. They are afraid that playtime, be it recess or art projects, will hinder learning. But there is a lot of research that validates the importance of play. Play provides psychological, social and medical benefits that all support academic improvement."
Conference presenters discussed the benefits of incorporating play throughout a person's life span and the detrimental effects of recess deprivation and overuse of electronic devices. 
Keynote speakers Garry Chick of Penn State University and Jacqueline Epping of the Center for Disease Control and Prevention each explained the value of play, physically for a child's healthy development and psychologically for more healthy personalities.
UD's College of Education and Human Development (CEHD), which incorporates play-based learning in its curriculum, both through students' coursework and at its four children education centers, was well represented at the conference. CEHD faculty, students and alumni presented findings for their research. 
HDFS students Kelley Perkins, a doctoral candidate, and Alison Seefeldt, a master's degree candidate, discussed the important role teachers play in fostering play-related behaviors in full-day kindergarten.
"A teacher's role in play is strong though subtle. It should be enhanced by providing three key elements -- space, time and support. Children need a location that allows them to move physically and interact socially, they need time for unstructured play, and they need a teacher who creates a playful environment," the students reported.
Jennifer Zosh, a 2003 UD alumna who received an honors bachelor's degree in psychology, and her collaborators presented on how the quality of parent-child interaction differs using traditional toys versus electronic toys.
Zosh explained that the spatial-related speech is used much more frequently when parents and children are engaged in play with the traditional toy. With the electronic toy, the conversation becomes more about how to interact with the toy rather than about playing and learning together.
Rebecca Vitelli, a junior early childhood education major, said she found the conference to be extremely valuable. "This was such a rewarding experience. It was wonderful to see so many passionate play advocates and researchers from all over the country join to discuss a wide variety of related topics," she said. "I was a little worried about feeling too young and 'out of place' at the conference; however, at both sessions, the presenters and attendees seemed really interested in what the 'current generation' of soon-to-be teachers thought. They actively involved me in conversation, genuinely wanting to hear my perspective."
During the conference, it was announced that Han was elected to serve as president of TASP through 2014.
In addition, Shan Jiang, doctoral student in HDFS, was presented with a travel award by IPA in recognition of her outstanding essay on the value of play and her presentation on comparing the play beliefs of Chinese and European American parents.
American Association for the Child's Right to Play
IPA/USA is the national affiliate of IPA World, an international non-governmental organization founded in Denmark in 1961. It is interdisciplinary and embraces in membership persons of all professions working for or with children.
The Association for the Study of Play
TASP is the premier professional organization in academia dedicated to interdisciplinary research and theory construction concerning play throughout the world. The association publishes a quarterly newsletter titled Play Review and an annual volume titled Play and Culture Studies.
The association's broad multidisciplinary focus includes the fields of anthropology, biology, communication studies, cultural studies, dance, ecology, education, ethology, folklore, history, kinesiology, leisure studies, musicology, philosophy, psychology, recreation, sociology and the arts. 
Other website supporting play
Geselle Institute of Child Development
Photo by Kathy F. Atkinson