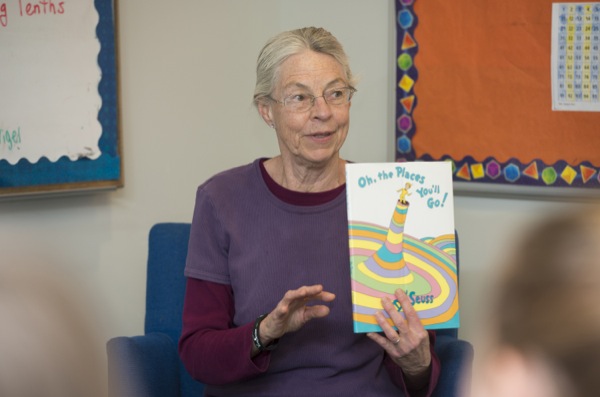 Story time
Blue Hens promote literacy at The College School
10:06 a.m., March 21, 2013--The College School (TCS) at the University of Delaware celebrated National Literacy Month with several events throughout March. They began the month participating in Read the Most From Coast To Coast, a one-day challenge to read as many books as possible and complete quizzes using Accelerated Reader software. Accelerated Reader helps teachers motivate students to read, measure progress and improve reading levels.
Students across the U.S. took part in the challenge, setting a new record of taking 4,409,622 quizzes.
From graduates, faculty
As it neared time for the processional to open the University of Delaware Commencement ceremonies, graduating students and faculty members shared their feelings about what the event means to them.
Doctoral hooding
It was a day of triumph, cheers and collective relief as more than 160 students from 21 nations participated in the University of Delaware's Doctoral Hooding Convocation held Friday morning on The Green.
"Our students were excited to be a part of this shared challenge. They enjoyed seeing their efforts counted among the national results on the live quiz counter," said Laurie Drumm, TCS teacher.
Next, TCS kicked off Blue Hens Read Across UD. Through this initiative, TCS invited UD faculty, staff and alumni, as well as members of the local community to share their favorite children's books with TCS students.
On the first day, TCS welcomed UD's new athletic director, Eric Ziady, the new head football coach, Dave Brock, men's basketball coach Monte Ross, and Tony Glenn, executive director of Delaware Foundation Reaching Citizens (DFRC). For a video about participation by athletics, click here.
Through the remainder of the two-week project, TCS had numerous guest readers, including Nancy Mattson, a UD alumna from the class of 1963 and co-founder of the Wilmington Aquatic Club. 
When asked by a student if much had changed in the 50 years since she'd graduated from UD, Mattson exclaimed, "Oh, yes. I love swimming and coached swimmers for most of my life -- but I didn't swim for UD. Women couldn't really do that sort of thing back then." 
She also noted how much the university had grown and confessed she wasn't sure she'd even be able to find The College School, since it didn't exist when she was on campus. Appropriately enough, Mattson then read Oh, the Places You'll Go by Dr. Seuss -- "You're off to Great Places! Today is your day! Your mountain is waiting, So... get on your way!" 
Mattson admitted that she wanted to work with children again since retiring from coaching and was very excited to be asked to read at TCS. Obviously delighted to participate, she stopped in the middle of the story and shared, "I keep chuckling, since I haven't read this book in a hundred years."
The students and staff at TCS were appreciative that so many people from the university volunteered to make Literacy Month such a fun and successful experience. 
Article by Alison Burris
Photo by Kathy F. Atkinson
Video courtesy of UD Athletics