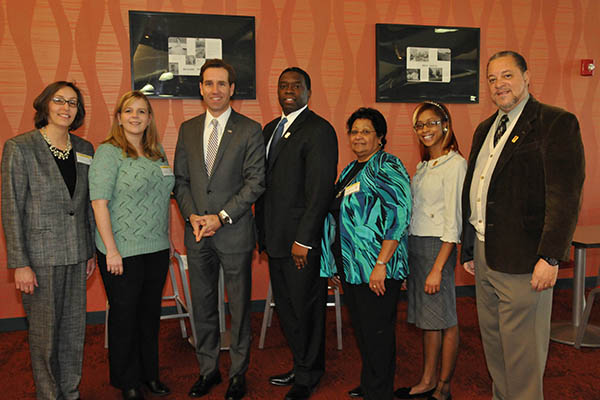 Innovative partnership
UD and DSU host a joint conference to explore campus victimization
11:52 a.m., March 15, 2013--The University of Delaware and Delaware State University collaborated to provide a multi-disciplinary conference exploring methodologies to strengthen responses to victimization on college campuses. 
The conference, titled "Responding to Campus Victimization: A Multi-disciplinary Approach," took place at DSU on Thursday, March 7. Approximately 150 professionals attended the conference, including prosecutors, forensic nurses, victim advocates, police officers and victim service providers. 
From graduates, faculty
As it neared time for the processional to open the University of Delaware Commencement ceremonies, graduating students and faculty members shared their feelings about what the event means to them.
Doctoral hooding
It was a day of triumph, cheers and collective relief as more than 160 students from 21 nations participated in the University of Delaware's Doctoral Hooding Convocation held Friday morning on The Green.
The conference was an initiative of the federal Violence Against Women Act (VAWA) campus grant awarded to UD and DSU. 
Through the VAWA campus grant, the two campuses work together "to reduce sexual assault, domestic violence, dating violence and stalking," according to Angela Seguin, the project director of the grant initiative and coordinator of Sexual Offense Support at UD's Student Wellness and Health Promotion. 
Several local practitioners, including experts from the Delaware Medical Examiner's Office, the Delaware State Police, the Christiana Care Health System and the Delaware Attorney General's Office, offered presentations at the conference.
"The conference was a unique opportunity to assemble credentialed speakers to present evidence-based practices utilized nationwide and in the state of Delaware," said Seguin. 
The conference featured a multitude of informative sessions, spanning a wide range of disciplines. 
Some sessions provided technical training for specific disciplines. Topics included mandatory reporting laws, evidence collection, crime scene photography and testifying in court. Other sessions explored issues such as cyberstalking, Delaware laws on sexual consent, federal laws that require colleges to report gender-based crimes and Protection From Abuse orders.
"Our goal was to provide a holistic learning opportunity," said Seguin. "Our teams from both universities were excited about the positive feedback received from the attendees of the conference and the high quality of the discussions that transpired." 
Article by Kelley Bregenzer