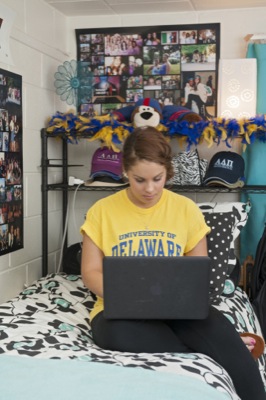 Deadline for campus housing extended
University students can apply for 2013-14 on-campus housing by April 1
1:06 p.m., March 18, 2013--University of Delaware students are guaranteed housing for the coming academic year if they apply by announced deadlines each year. This year, Housing Assignment Services is extending the deadline to April 1.
"Living on campus lets students make the most of their college experience," said Linda Carey, director of Housing Assignments Services. "Students who live on campus get more services and support and we want to extend the opportunity to as many students as possible."
From graduates, faculty
As it neared time for the processional to open the University of Delaware Commencement ceremonies, graduating students and faculty members shared their feelings about what the event means to them.
Doctoral hooding
It was a day of triumph, cheers and collective relief as more than 160 students from 21 nations participated in the University of Delaware's Doctoral Hooding Convocation held Friday morning on The Green.
From the convenience of living close to classes, to amenities like fitness centers across campus, and no utility bills, UD officials note that living on campus is considered a great value. Utilities included in room rates are outstanding, and students have access to one of the fastest Internet and widest Wi-Fi networks in the state, cable with a plethora of channels including original programming from the UD community and the University's 24/7 FixIt! service. 
Students indicate that another major incentive to living on campus is the location. A shorter distance means longer leisure.
"The top reason for living on campus is location, location and location," said student Anne Harney. "Where better than living in the middle of it all, close to classes, close to Trabant, and close to where everything is happening?" 
Priority for housing is not first-come, first-served as long as students apply by the deadline. Instead, priority is based on the number semesters a student has lived on campus. Students who are eligible to return to their room for the next year can use a "Return Request" option.
Details about the various living options and instructions on how to complete the application and preference form are available at the Housing Assignment Services website. Students are also welcome to contact the office by phone at 302-831-3676 or email at ud-housing@udel.edu.