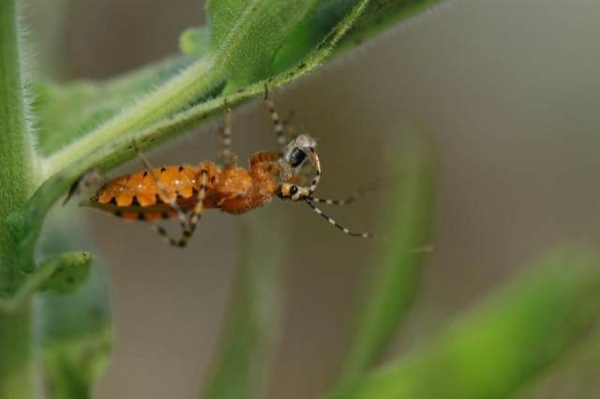 Native Delaware: Blooms, bugs
Spring means lush blooms and wide variety of beneficial bugs
1:01 p.m., March 19, 2013--Spring officially gets underway March 20, bringing blooms, birds and bugs. Lots of people get excited about the first redbud flower or returning tree swallow. Fewer get enthused about the first Eastern tent caterpillar or green lacewing that emerges in spring.
But a wide variety of flowering plants and songbirds wouldn't exist without insects. "A number of different insects pollinate plants and many are an important protein source for birds," notes Brian Kunkel, an entomologist with University of Delaware Cooperative Extension.
From graduates, faculty
As it neared time for the processional to open the University of Delaware Commencement ceremonies, graduating students and faculty members shared their feelings about what the event means to them.
Doctoral hooding
It was a day of triumph, cheers and collective relief as more than 160 students from 21 nations participated in the University of Delaware's Doctoral Hooding Convocation held Friday morning on The Green.
Bugs get a bad rap, says Kunkel. Some bugs – stink bugs, Japanese beetles and yes, Eastern tent caterpillars -- deserve the nasty reputation because they damage or destroy ornamental plants, turf grass or agricultural crops.
But many insect species are innocuous – they do no harm. And plenty more, like immature green lacewings, are good guys.
While the adult form of this insect eats pollen and nectar, the young green lacewing gobbles up a slew of pests, including white flies, aphids, adult mealy bugs, and mealy bug eggs and larvae.
"Beneficial insects far outnumber the pests," says Kunkel. "In fact, more than 97 percent of arthropods typically seen in the home landscape are either beneficial or innocuous."
(Arthropods, as you may recall from your school days, include not only insects but also spiders, predatory mites and other creepy crawlies.) 
Gardeners often grab a can of pesticide at the first sight of a bug, without even bothering to figure out whether the species is a pest.  Retired Hercules technologist and current Master Gardener Frank Ebright used to do that, too.
"I spent my career working with chemicals. I have nothing against them; chemicals have helped to save lives. But I don't see a need for them in my garden," says Ebright. 
He tends to a two-acre yard in Cecil County, Md. Once he became a Master Gardener 19 years ago, Ebright's use of chemical pesticides declined but he still spot-treated roses and other plants with pest problems. About five years ago he abandoned lawn chemicals for good and reports that his landscape has never looked better.
"Once I got rid of the chemicals, the beneficial insects starting coming to my yard and taking care of my pest problems," he says.
Ebright will be leading a Master Gardener workshop about beneficial insects and integrated pest management on May 16. "I want gardeners to use chemical control as a last resort, not the first defense, and learn who their friends are."
Sometimes it's easy to identify your friends. Even though there are some 150 species of lady beetles in the U.S., these beneficials are a cinch to recognize. Their size and color may vary but all sport characteristic spots on their abdomens.
Other times, it's tough to tell friend from foe. For example, the hover fly looks like a stinging hornet but the adult form is a first-rate pollinator that has been ranked just after the honeybee in its effectiveness. Plus, the larvae of many species of hover flies gorge on aphids, a pest that can wreak havoc on everything from roses to maple trees.
Ebright's go-to book for identifying insects is Garden Insects of North America by Whitney Cranshaw. If he sees an unknown bug, he snaps a photo of it then compares it to images in Cranshaw's book.
One of the first steps in integrated pest management is "making sure your plants are happy," says Kunkel. Essentially, that comes down to "planting the right plant in the right place," he notes.
If a plant requires moist soil, don't put it in a dry spot. If it needs full sun, don't think you can get away with partial shade. A stressed plant won't be happy and can be more vulnerable to pest infestations, says Kunkel.
Companion plants are another element of integrated pest management. Nasturtium is commonly used as a companion plant, especially in vegetable gardens. Plant nasturtium near cabbage, tomatoes, cucumbers, broccoli, collards and kale. The aroma of this colorful annual will repel aphids, squash bugs and striped pumpkin beetles.
Presentations
• May 16, 6-8 p.m.: Find out how to use integrated pest management for an attractive yard and productive vegetable garden. New Castle County Cooperative Extension Office, Newark. $25. To request a registration form, call 302-831-COOP or download the form online.
• June 11, 6-8 p.m.: Join Brian Kunkel and other experts for a plant, pest and beneficial insect walk. New Castle County Cooperative Extension Office, Newark. Free. Register by email to cjmurphy@udel.edu.
Article by Margo McDonough
Photo courtesy of Brian Kunkel