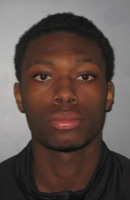 Robbery arrest
Additional suspect arrested in Feb. 15 robbery
3:37 p.m., March 15, 2013--Newark Police have announced the arrest of a fifth individual in connection with a robbery that occurred Feb. 15 on South Chapel Street at Scholar Drive in Newark.
In the incident, which occurred around 11:30 p.m., Feb. 15, a 19-year-old man from Newark was walking on South Chapel Street when he was approached by three men who engaged him in conversation. He was struck from behind and knocked to the ground, and the suspects removed his wallet before fleeing. His credit card was later used at several locations.
Detectives were able to positively identify Tyrone Nickens Jr., 18, of Townsend, Del., for his involvement in the robbery. He turned himself in to Newark Police after learning that an arrest warrant had been issued. Nickens has been charged with first degree robbery and second degree conspiracy and is now at Howard Young Correctional Institution. 
Earlier this week, Newark Police arrested four Maryland teens in connection with this incident and a second related robbery. 
Anyone with additional information should contact Detective Fred Nelson at 302-366-7110, ext. 136 or frederick.nelson@cj.state.de.us. Anonymous tips can be texted to 302NPD, with the message to TIP411. Information also can be provided anonymously to Crime Stoppers at 1-800-TIP-3333 or www.tipsubmit.com, where a reward may be available. 
Safety tips
UD Police remind members of the University community to take precautions to safeguard themselves against crime:
• Show a confident attitude and be alert and aware of your surroundings. 
• Avoid walking alone at night. Walk with a group, ride a University bus or call Public Safety for a walking escort. 
• Use well-lighted paths and sidewalks, and take the most direct route. 
• Report all suspicious activity by calling 911. 
Visit this website to receive a UD Crime Alert email whenever an article about a police investigation is posted on UDaily.