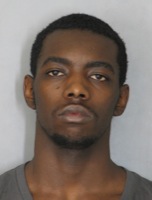 Suspect arrested
Newark Police arrest man in Feb. 26 robbery
4:37 p.m., March 4, 2013--Newark Police have arrested an 18-year-old Wilmington man in connection with the strong-arm robbery of a University of Delaware graduate student that occurred around 1:25 p.m., Tuesday, Feb. 26, on Papermill Road. 
The 23-year-old student was walking on the sidewalk when she was approached by a man who pushed her, demanded property and grabbed her cell phone. She was not injured.
On Feb. 28, detectives located surveillance footage of the suspect boarding a DART bus at the bus hub on East Delaware Avenue shortly after the robbery. They distributed photos of the suspect to Newark Police officers, and within three hours, officers from Newark's street crimes and special operations units located him walking on South Chapel Street, near Delaware Avenue. He was wearing the same clothing as the day of the robbery.
The suspect, later identified as Ernest Kellan of Wilmington, was taken into custody without incident and positively linked to the robbery. On March 1, Newark Police detectives executed a warrant at his Wilmington residence, where they located property linking him to the crime. 
He was arrested on one count of second degree robbery, arraigned through JP Court #11 and released after posting $5,000 cash bail. 
Anyone with information on this case is asked to contact Detective Greg Micolucci at 302-366-7110, ext. 132 or greg.micolucci@cj.state.de.us. Anonymous tips on either case can be texted to 302NPD with the message to TIP411. Information also can be provided anonymously to Crime Stoppers at 1-800-TIP-3333 or www.tipsubmit.com, where a reward may be available.
Safety tips
UD Police remind members of the University community to take precautions to safeguard themselves against crime:
• Show a confident attitude and be alert and aware of your surroundings. 
• Avoid walking alone at night. Walk with a group, ride a University bus or call Public Safety for a walking escort. 
• Use well-lighted paths and sidewalks, and take the most direct route. 
• Report all suspicious activity by calling 911. 
Visit this website to receive a UD Crime Alert email whenever an article about a police investigation is posted on UDaily.