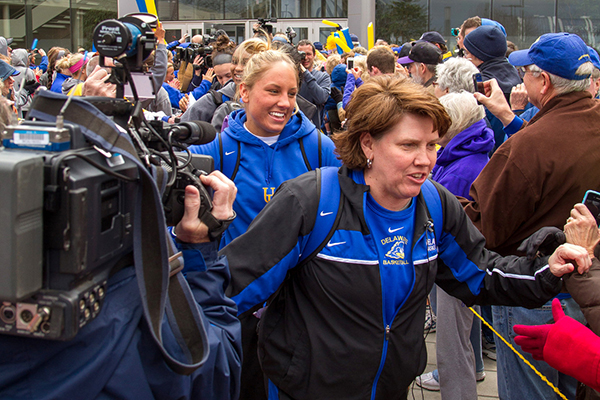 Alumni activities
UD alumni cheer on Blue Hens in NCAA championship tournament
8:09 a.m., March 29, 2013--University of Delaware alumni gathered at locations from coast to coast to cheer on the Fightin' Blue Hens as they competed in the NCAA Division I women's basketball championship tournament in a nationally televised game played Saturday, March 30, in Bridgeport, Conn.
The Hens' historic run came to an end against the University of Kentucky, as the Wildcats won 69-62 to advance to the tournament's Elite Eight.
'Resilience Engineering'
The University of Delaware's Nii Attoh-Okine recently published a new book with Cambridge University Press, "Resilience Engineering: Models and Analysis."
Reviresco June run
UD ROTC cadets will run from New York City to Miami this month to raise awareness about veterans' affairs.
Several dozen alumni watch parties were held nationwide.
Other alumni activities include:
Thursday, April 4, 5 p.m.: Reading happy hour. The Reading Alumni Club will host a happy hour at the Railroad House in Sinking Spring, Pa.
Thursday, April 4, 6 p.m.: School of Public Policy and Administration Scholarship Fundraiser. Alumni are invited to an auction style social intended to raise tuition scholarships for future students.
Saturday, April 6, 12:30 p.m.: Emancipation Symposium. Alumni are invited to attend a symposium marking the 150th anniversary of the Emancipation Proclamation to be held at the Delaware Historical Society's Delaware History Center in Wilmington. The symposium is part of semester-long programming on emancipation hosted by UD's Department of History. The event will feature presentations by distinguished historians and legal scholars and a reading by Natasha Trethewey, the U.S. poet laureate.
Sunday, April 7, 8 p.m.: Hawaii Blue Hens Concert in Honolulu.  UD alumni in Honolulu will gather for a free concert by Delaware's award-winning Celtic fusion band Mythica, a quartet of Blue Hen musicians.
Tuesday, April 9, 6:30 p.m.: Art investigator. Art investigator Robert Wittman will recount a fascinating 20-year career of fighting art crime, during which time he recovered stolen art and cultural patrimony worth hundreds of millions of dollars.
Friday, April 12, 6:30 p.m.: South Florida wine tasting. Blue Hens in south Florida will gather for a wine tasting event at the Boynton Beach Wine Cellar, 1500 Gateway Blvd.
Thursday, April 18, 12:30 p.m.: President's Forum on Innovation and Entrepreneurship. Alumni are invited to attend the sixth annual President's Forum on Innovation and Entrepreneurship to be hosted by UD's Horn Program in Entrepreneurship.
Thursday, April 18, 6:30 p.m.: Engineers Without Borders benefit. Alumni are invited to the annual dinner and silent auction to benefit the University's chapter of Engineers Without Borders, a student organization that works closely with the international community and professional engineers to develop and implement sustainable solution to engineering problems around the globe. The event will be held at the Newark Country Club.
Friday, April 19, 10:30 a.m.: Friends of UD Lacrosse golf outing. The Friends of UD Lacrosse will host a golf outing at Deerfield in Newark, and alumni, friends and family are invited to participate. The event benefits the Blue Hens men's lacrosse program.
Saturday, April 20, 10 a.m.: Big Fish Grill cooking class. Back by popular demand, alumni are invited to attend a private cooking class at the Big Fish Grill in Rehoboth Beach.
Saturday, April 20, 5 p.m.: Baltimore Urban Pirate cruise. The Baltimore Alumni Club will host an Urban Pirate cruise during the Fell's Point Privateer Festival.
Thursday, April 25, 5:30 p.m.: Philadelphia Flyers hockey. Alumni will gather in Philadelphia to watch the Flyers take on the New York Islanders in a National Hockey League game. Complimentary appetizers and a cash bar will be available at McFadden's Ballpark prior to the game.
Sunday, April 28, 9:30 a.m.: Boston Spring Classic 5K. Alumni are invited to join Boston area Blue Hens for the Spring Classic 5K road race and an after-race party. People of all running abilities are welcome.
The Office of Alumni Relations recognizes and thanks the UD Alumni Association for its support of several of these events.
Photo by Mark Campbell