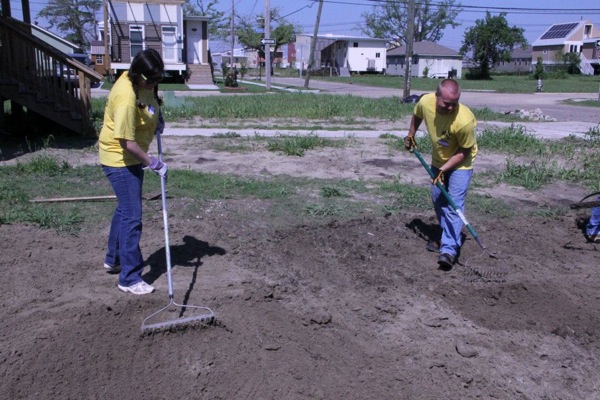 UDaB 2013
University of Delaware students prepare for third year of alternative break trips
3:37 p.m., March 19, 2013--In 2012, University of Delaware Alternative Breaks (UDaB) – a program that provides UD students a spring break alternative by immersing them in direct service and experiential learning -- sent out about 120 participants who completed a total of 3,917 hours of service.
In 2013, with UDaB now in its third year, the program will be sending approximately 150 students to participate in alternative spring break projects next week in the New Orleans metropolitan area, Mississippi, New Jersey, North Carolina and Washington, D.C.
From graduates, faculty
As it neared time for the processional to open the University of Delaware Commencement ceremonies, graduating students and faculty members shared their feelings about what the event means to them.
Doctoral hooding
It was a day of triumph, cheers and collective relief as more than 160 students from 21 nations participated in the University of Delaware's Doctoral Hooding Convocation held Friday morning on The Green.
UDaB received many more applicants this year than in 2012, as well as additional funding. The program raised more than $15,800 through a letter writing campaign to friends and family that has been used to offset the cost of the trips for students who participate.
In addition to a very successful fundraising campaign, UDaB has announced the receipt of a $2,500 grant from Donors Inc., a local foundation, to support student participation in UDaB programs.
Susan Serra, program manager in the Office of Service Learning, said it is gratifying that community members recognize the transformative effect service experiences can have on student participants.
UDaB officials encourage those interested in supporting alternative breaks to donate to the organization. Seniors at the University should note that they can designate their senior gift to UDaB.
March 20 send-off
On Wednesday, March, 20, UDaB will host a send-off event for participants. It will be held from 5-7 p.m. in the Multipurpose Room of the Trabant University Center. 
The group will be joined by other spring break programs, including an Honors Program trip to the Dominican Republic and the New Castle Presbyterian Church trip to Haiti.
April 10 reports
UDaB also will host a return event for all alternative break trips on Wednesday, April 10. This event will allow participants to reflect on and share their experiences with each other.
Social media
The campus community can join students in the UDaB program, who will be posting photos and updates about their activities on the University's Facebook and Twitter accounts.
The students will focus on causes such as disaster relief, urban education, ecosystem restoration and Habitat for Humanity.
From March 25-29, a photo from one of five community service trips taking place across the country will be posted to UD's Facebook page. Twitter and Instagram users are invited to follow updates with the hashtag #UDaB2013. 
Article by Katie Plante and Kristen Spirko