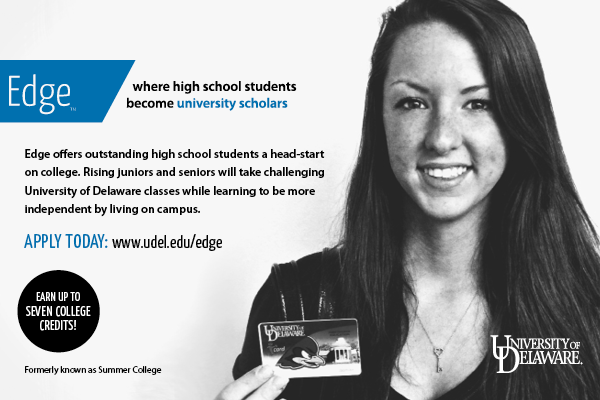 Summer experience
Popular summer program now has Edge
11:19 a.m., March 22, 2013--The University of Delaware Summer College, a popular pre-college summer program, has been redefined and expanded and now has a new name — Edge.
The traditional five-week residential program prepared rising high school juniors and seniors for the college experience, enrolling them in courses for which they received academic credit and also offering them practical skills.  
From graduates, faculty
As it neared time for the processional to open the University of Delaware Commencement ceremonies, graduating students and faculty members shared their feelings about what the event means to them.
Doctoral hooding
It was a day of triumph, cheers and collective relief as more than 160 students from 21 nations participated in the University of Delaware's Doctoral Hooding Convocation held Friday morning on The Green.
"We wanted to build on the success of the previous program and enhance it to give students a more scholarly experience, while also providing them with some practical skills they can use to apply to and succeed in college," said Kevin Liedel, Edge coordinator at the UD Honors Program. 
"When they complete Edge, these students will have the advantage not only of real college credits, but they'll also have practical experiences and a more thorough knowledge of what college life is like—all of which will serve them well as they apply and begin their college careers." 
In addition to taking college classes taught by UD faculty, this year students will be enrolled in the Edge Scholars Workshop. This seminar, which will meet twice a week, will guide them on how to apply to college, manage their time, acquire writing and communication skills and use University resources.
The workshop culminates in a capstone incorporating a social media project, with students maintaining their own blogs, which will be evaluated by Edge staff at the conclusion of the program. 
Scheduled from July 6-Aug. 10, Edge enables participates to enroll in two college-level courses for up to seven transferrable credits. Offered this summer will be courses in "Introductory Biology," "General Chemistry," "Communication and Personal Behavior," "Introduction to Macroeconomics," "Introduction to Short Story" and "World Religions."  
Edge students will live in the Independence Hall East residence hall, and a two-per-day meal plan is included in the program tuition fee. 
For more information, including details on how to apply and financial aid availability, visit the Edge website or write to edge@udel.edu.