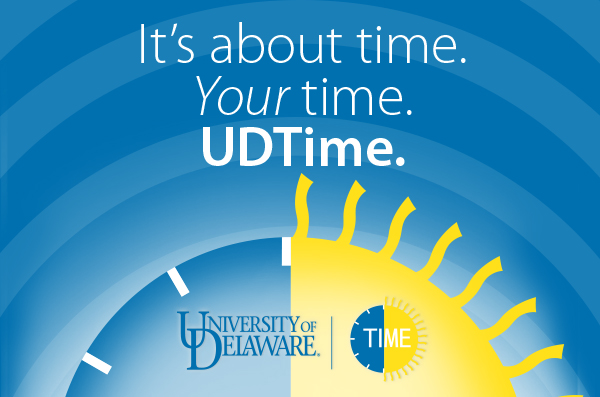 UDTime training
Human Resources unveils new UDTime forms, offers training
3:14 p.m., June 24, 2013--With new forms being rolled out and initial instruction having been completed, the University of Delaware Office of Human Resources is entering a key phase of employee training for use of the new UDTime system, which will begin operation on Aug. 4.
UDTime is the University's new system that will provide centralized and consistent information concerning employees' earned time off and that will be easily accessible from anywhere in the world.
June 6: UDid It! Picnic
All UD faculty and staff members are invited to attend the annual UDid It! employee appreciation picnic, set from 11 a.m.-1:30 p.m., Monday, June 6, on The Green.
2FA protects you
If you are using two-factor authentication (2FA), even if a hacker has your password, your information is probably safe.
It has received high marks from many UD employees who have received early training.
"The new UDTime system is going to be a wonderful, time-saving tool for UD," said Teresa Clark, administrative assistant in the Admissions Office. "No more long spreadsheets to pay students and miscellaneous wage, no more JEDs constantly flying back and forth to transfer, rehire, and change the status of employees, no more terminations by the 'home' department while you are trying to pay somebody, and a clear, concise and helpful tool for everybody to be able to track their vacation and sick time at any time that is convenient for them."
Clark said that "the training for the new system was excellent. It was clear and easy to understand for everyone, and the trainers did a wonderful job of answering all of our questions. Our group seemed very enthusiastic about the upcoming changes."
She added, "It is obvious that a lot of hard work went into making this a user-friendly system, and I highly recommend this training for everybody so that we can get the greatest benefits from the new time and attendance system.
UDTime is being prepared for an early August rollout, with training sessions being offered this week through mid-July.
Because the new forms are significantly different from those in the current system in both look and feel, HR officials are strongly encouraging employees to participate in training sessions.
Those who do not attend departmental training should sign up for other sessions.
HR representatives will be visiting southern Delaware campus sites in Georgetown and Lewes on July 16 to discuss UDTime. 
The training sessions will provide information on how to use the system, complete with instruction, PowerPoint presentations and handouts available to those who attend.
Following are links to use in registering for UDTime open general sessions:
Details about how UDTime will impact various employee groups can be found at the website, which also has several resources available.
For additional information on UDTime training, send email to Time-Attend-users@udel.edu.