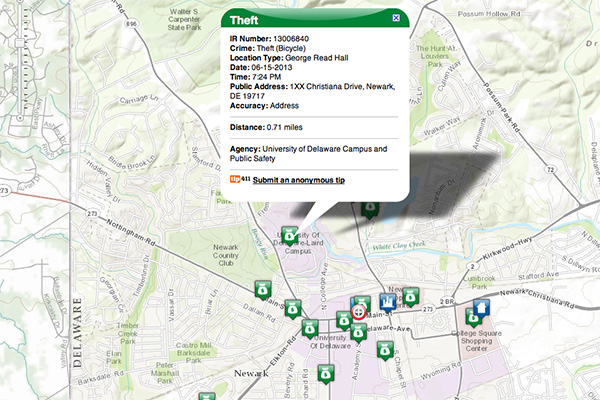 Tip411
Campus and Public Safety RAIDS map now includes crime tip portal
10:07 a.m., June 25, 2013--The University of Delaware Office of Campus and Public Safety has announced that it has added a new feature to its RAIDS online crime mapping service.
The new feature allows members of the public to submit information about crimes through a Tip411 portal, which is fed anonymously to a secure UD Police Department email box that is monitored by the Criminal Investigation Unit.
June 6: UDid It! Picnic
All UD faculty and staff members are invited to attend the annual UDid It! employee appreciation picnic, set from 11 a.m.-1:30 p.m., Monday, June 6, on The Green.
2FA protects you
If you are using two-factor authentication (2FA), even if a hacker has your password, your information is probably safe.
The UD police department is the first in the state to use RAIDS Online and the Tip411 service.
The Tip411 portal can be found by going to the RAIDS map for Newark and clicking on an incident icon. Those incident icons that refer to incidents being investigated by University Police include the Tip411 portal at the bottom of the information.
Those who want to report information related to a given incident can click on the portal to open a web form that will provide information to the police anonymously. Hit submit and the information will go to the University Police email box, where it will be reviewed.
"Campus and Public Safety has worked in partnership with RAIDS Online to provide a free crime mapping and analysis tool to the campus community," said Mark Seifert, UD emergency communications and information technology manager with Campus and Public Safety. "This service has many innovative features including both tabular and visual depictions of crimes reported to University Police. By providing this service and the Tip411 feature, we are attempting to leverage citizens as partners in fighting crime. We are committed to using technology to helping solve crime and to enhance the safety of our students and community."