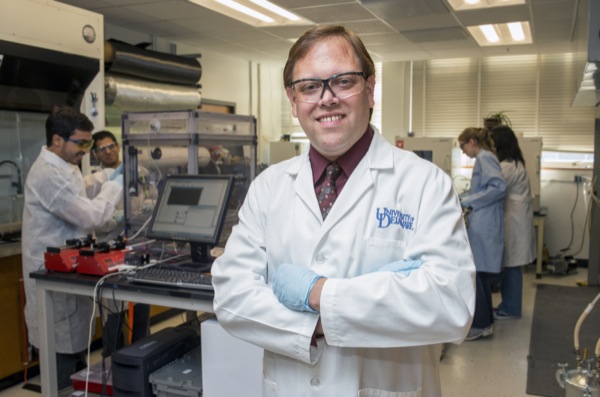 Technology in the classroom
UD faculty members create instructional videos in Self Service Studio
(Editor's note: This article is part of a continuing series by University IT on innovative use of technology in campus classrooms.)
12:01 p.m., June 20, 2013--Some University of Delaware faculty members have begun "flipping the classroom," recording brief lectures or demonstrations for their students to view outside the classroom so that more class time can be spent on other activities. 
Faculty have found the Self Service Studio in 309 Gore Hall an easy-to-use resource for recording material to supplement their students' classroom experience: homework solutions, prerequisite material, lectures, demonstrations and other resources. 
June 6: UDid It! Picnic
All UD faculty and staff members are invited to attend the annual UDid It! employee appreciation picnic, set from 11 a.m.-1:30 p.m., Monday, June 6, on The Green.
2FA protects you
If you are using two-factor authentication (2FA), even if a hacker has your password, your information is probably safe.
Patricia Schwarzkopf, instructor in the Department of Mathematical Sciences, has had success using the videos she made herself in 309 Gore to set up in class activities. "At home, the students watch the video lectures I created in the studio, which are about 10 minutes long, and the next day we get into groups and work through the material," she said, adding, "The students liked having the resources available to them to brush up on concepts."
Watch the full video interview.
Erik Thostenson, assistant professor in the Department of Mechanical Engineering, uses the studio to free up class time for lecturing. By recording homework solutions with a document camera in Gore 309, he is able to spend more time lecturing and clarifying complex topics, rather than reviewing homework.
"I've received a lot of positive feedback from students, who said it felt like I was working through the problem with them," Thostenson explained.
Every year, Thostenson, who teaches MEEG417/617, a combined undergraduate and graduate level course in composite materials, requires students to present on the current state of the art in composite materials. However the fall 2012 class was larger than usual, and class time was cut short by Hurricane Sandy.
Instead of having the students present during class time, Thostenson arranged for the graduate students to record their presentations in the Self Service Studio and share their videos on Sakai@UD for the undergraduate students to view. 
"In future semesters, I plan to use these presentations as a case study for certain topics we cover," Thostenson explained. 
Provided by IT Academic Technology Services (IT-ATS), the facility is an extension of UD Capture. The room is equipped with a recording station, microphone and a video connection (VGA cable) for laptop computers. 
Schedule time in the studio or contact IT-ATS to learn more.   
Article by Sarah E. Meadows
Photo by Kathy F. Atkinson