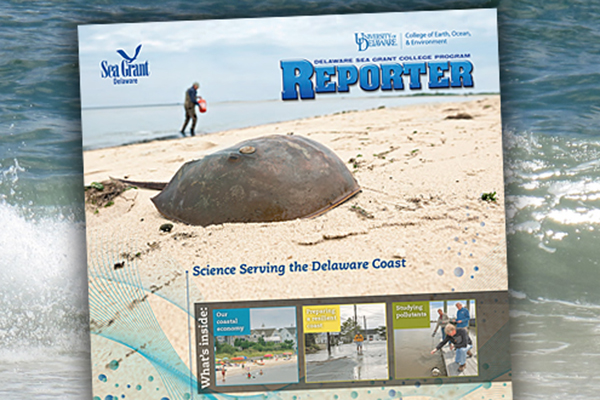 Sea Grant update
Annual report informs community about Delaware Sea Grant's latest efforts
2:37 p.m., June 17, 2013--From securing homes for hurricanes to monitoring water quality, the Delaware Sea Grant College Program applies science to inform decisions that sustain the state's coastal economy and environment. The latest edition of the program's Reporter annual report focuses on the various ways that Sea Grant uses science to serve the Delaware coast.
"Delaware Sea Grant promotes the wise use, conservation and management of marine and coastal resources while also supporting economic growth," said Nancy Targett, director of Delaware Sea Grant and dean of UD's College of Earth, Ocean, and Environment. 
From graduates, faculty
As it neared time for the processional to open the University of Delaware Commencement ceremonies, graduating students and faculty members shared their feelings about what the event means to them.
Doctoral hooding
It was a day of triumph, cheers and collective relief as more than 160 students from 21 nations participated in the University of Delaware's Doctoral Hooding Convocation held Friday morning on The Green.
This year's Reporter highlights research and outreach efforts focused on environmental pollutants, the coastal economy and natural hazard preparedness. Recent efforts include examining groundwater pollution related to various types of land use and developing an alternative bait to whole horseshoe crabs for catching eel and whelk. Sea Grant experts are also providing safety information to residents about coastal storms in the wake of Hurricane Sandy.
Published annually, Reporter encourages readers to become informed, get involved and stay connected through various Sea Grant programs. Reporter readers who complete the readership survey will be entered in a drawing for Delaware Sea Grant's Coastal Prize Package, which includes a stay at UD's Virden Center in Lewes, Del.