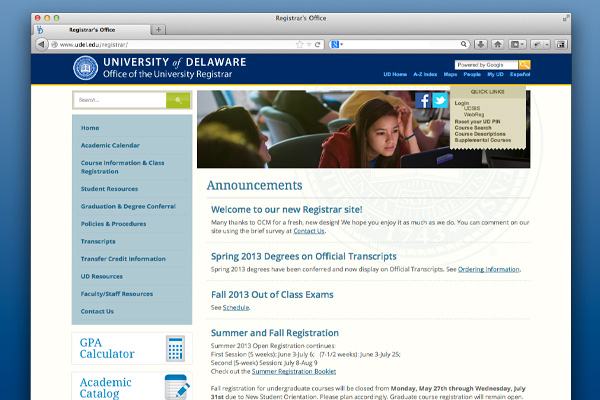 Registrar's new website
UD Registrar premieres new website design
3:46 p.m., June 19, 2013--Offering University of Delaware students a fresh and user-friendly experience, the Office of the University Registrar premiered its redesigned website on June 10.
The website, which was last redesigned in 2010, now offers students a one-stop academic source that is pleasant to both view and navigate.
June 6: UDid It! Picnic
All UD faculty and staff members are invited to attend the annual UDid It! employee appreciation picnic, set from 11 a.m.-1:30 p.m., Monday, June 6, on The Green.
2FA protects you
If you are using two-factor authentication (2FA), even if a hacker has your password, your information is probably safe.
"It was time for a refresh since the old site looked dated," says Jeff Palmer, UD registrar. "We also wanted to make everything easier to find, expandable for the future and more student-focused."
Designed with input from student interns and academic sources, the website clearly displays multiple tools available for student and faculty use. These tools include a bookmark ribbon, a GPA calculator, a UD undergraduate and graduate catalog, a policies and procedures page, an academic calendar, and login-required faculty and staff forms.
"When we design and build websites for the University, we often look at the historic usage of a website to understand how it is serving it's audience," says Jeffrey Chase, senior art director at UD's Office of Communications and Marketing (OCM). "Working with the Registrar's office and combining anecdotal information, site analytics and an informational hierarchy, I think we delivered a solid collaborative product."
"By creating a more simple, organized, and easily navigable web site, users are able to quickly see major information categories broken out to efficiently find what they need," says Corin Larraga, an OCM web developer.
Palmer, Chase and Larraga spearheaded the project alongside Debra Wilder, the Registrar's systems analyst.
As a result of the collaborative effort, Palmer says the registrar's website has now increased its value as a resource to the UD community.
"The end result more than meets my expectations," says Palmer. "I am thrilled to have such a wonderful web presence for the Office of the University Registrar."
Students and faculty may provide feedback on the registrar's new website design by completing a brief survey on the "Contact Us" page.
Article by Laura Hepp