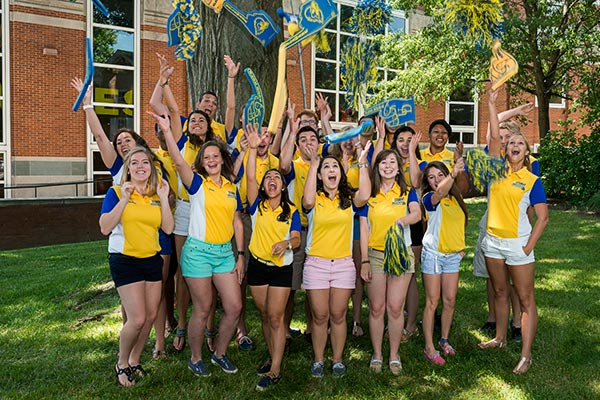 New Student Orientation
UD opens monthlong New Student Orientation program
2:59 p.m., June 17, 2013--Equipping new students with some summer fun and college preparation, the University of Delaware will launch its annual New Student Orientation (NSO) program on Tuesday, June 18, in the Multipurpose Rooms of the Trabant University Center.
NSO, welcoming and accommodating approximately 3,600 new students and 5,000 guests, will be held every weekday from 8:30 a.m. to 4:30 p.m. June 18 until July 17. 
From graduates, faculty
As it neared time for the processional to open the University of Delaware Commencement ceremonies, graduating students and faculty members shared their feelings about what the event means to them.
Doctoral hooding
It was a day of triumph, cheers and collective relief as more than 160 students from 21 nations participated in the University of Delaware's Doctoral Hooding Convocation held Friday morning on The Green.
With an organized schedule jam-packed with educational and fun activities, students and families can anticipate leaving UD with a deep understanding of the University atmosphere.
"NSO provides an important opportunity for first-year and transfer students to get a head start on their college experience at UD," says Heather Maginnis, New Student Orientation director. "Attending orientation in the summer introduces students to their life on campus academically and socially, preparing them for the start of their first semester."
Upon arrival, students will receive their daily itinerary, which will include a UD Barnes and Noble Bookstore tour, an ID card appointment, an academic advisement meeting, two special interest sessions and a UDairy Creamery treat. 
Parents and guests will be given separate but simultaneous schedules with activities designed to answer any asked questions. 
Students and guests alike will learn about UD's quality resources in academics, co-curricular opportunities, on-campus housing, health, safety, dining plans, financial aid, and much more. 
"Students are separated from their families during NSO to allow them to have more opportunities to connect with their new classmates, work one-on-one with an academic adviser and be independent during their time on campus to prepare them for their transition to college life," says Maginnis. 
New students can plug in to the campus community through UD social media.
Article by Laura Hepp
Photo by Kathy F. Atkinson