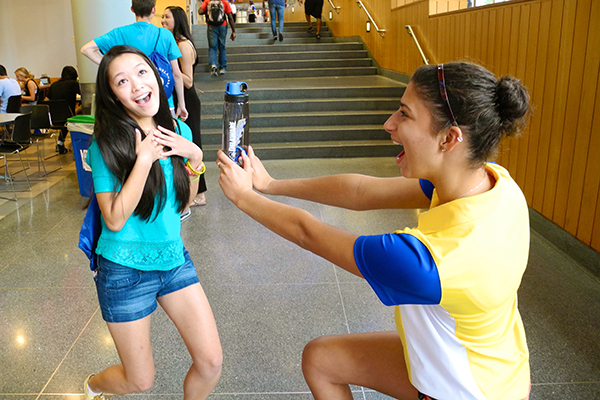 New Blue Hens of the Week
New UD students featured on Blue Hen Says Facebook page
3:30 p.m., June 28, 2013--Several members of the University of Delaware's Class of 2017 were introduced to the Blue Hen family this week when they were featured as "NSO New Blue Hens of the Day" on Facebook.
Each morning at UD's New Student Orientation (NSO), students who like the Blue Hen Says Facebook page are entered to win the title of NSO New Blue Hen of the Day, along with prizes and a photo feature on the page. 
'Resilience Engineering'
The University of Delaware's Nii Attoh-Okine recently published a new book with Cambridge University Press, "Resilience Engineering: Models and Analysis."
Reviresco June run
UD ROTC cadets will run from New York City to Miami this month to raise awareness about veterans' affairs.
This week's winners included: 
Ishmael Johnson-Bey
A computer science major from Perry Hall, Md., Ishmael Johnson-Bey said he's excited to become a Blue Hen because his father is one, too. "To be honest, my dad was really pushing for me to come to UD," he said. "But when I came to campus, I fell in love. I knew it was the place for me."
Cassandra Steele
Cassandra Steele traveled to UD from Wharton, N.J. She said she plans to join an intramural volleyball team in addition to working with UDRESS, a fashion-focused registered student organization (RSO) that will suit her fashion merchandising major. 
Alec Manougian
Ready to start his college career as a chemistry major, Alec Manougian said he was thrilled to be selected as a New Blue Hen of the Day. Manougian is very excited to be a part of the UD community and plans to make new friends while nurturing his academic and extracurricular interests. "I definitely want to join a few club sports and use the rock climbing wall in the Carpenter Sports Building," he said.
Emma Wennick
Emma Wennick said she chose UD for its marine science program. Seeking active involvement on campus, she plans to attend fall Activities Night and "shop" for RSOs. 
Brooke Catalfamo
A biomedical engineering major, Brooke Catalfamo said she had no hesitations about coming to UD. "The University of Delaware offers a small school feel on a larger campus," she said. "I can't wait to get started and call this beautiful campus my home."
Blue Hen Says is UD's social media account for students, by students. In addition to a Facebook page, there is also a Blue Hen Says Twitter account. 
New students will be featured on the Blue Hen Says Facebook page every day of NSO, which runs through July 18. 
Article by Laura Hepp
Photo by Elizabeth Zenz