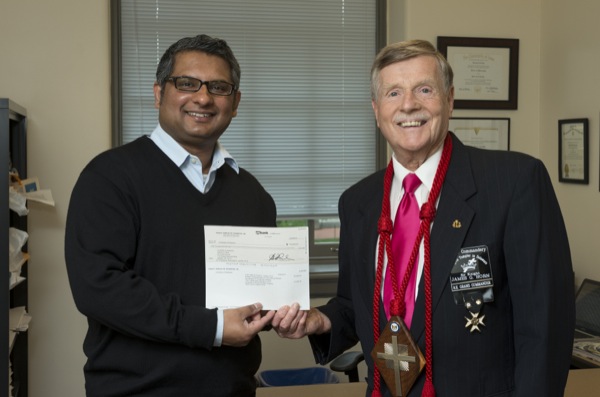 Cataracts in infants
UD's Lachke expands cataracts research to infants born with the disease
11:37 a.m., June 13, 2013--The University of Delaware's Salil Lachke, a developmental biologist and expert in gene discoveries associated with eye disease, has received a career-starter research grant from the Knights Templar Eye Foundation (KTEF) to expand his scholarship to infants born with cataracts, making him one of 19 researchers across the country to receive this award. 
Cataracts in children can cause permanent vision damage by preventing proper visual signals to the brain during critical stages of development, and nearly half of all cases of newborn cataracts are caused by genetic defects. 
Chronic wounds
UD's Millicent Sullivan and Kristi Kiick have received a $1.4 million grant from the National Institutes of Health for research that could provide a new approach to the treatment of chronic wounds.
Prof. Heck's legacy
The American Chemical Society is highlighting the legacy of the late Nobel laureate Richard Heck, the Willis F. Harrington Professor Emeritus of Chemistry at the University of Delaware with a digital tribute on its publications website.
Lachke, an assistant professor of biological sciences and Pew Scholar of biomedical sciences, has developed an online gene discovery tool, called "iSyTE" (Integrated Systems Tool for Eye gene discovery), currently housed at the University's Center for Bioinformatics and Computational Biology.
In the past three years, iSyTE has led to the identification of several new genes associated with cataracts, including TDRD7, which, when mutated, can lead to cataracts and glaucoma in mice and in humans. 
With funding from the KTEF, Lachke will use iSyTE, advanced technological RNA sequencing and protein analysis to identify the altered molecules in TDRD7-deficient mice.
"These investigations will identify components of a new pathway that leads to congenital cataracts in humans and will aid in development of genetics-based diagnostic approaches for ocular disease," said Lachke. 
The grant, a $60,000 award that can be renewed once, is the third honor in the past academic year for Lachke, who was previously named a Pew Scholar and then recipient of a Young Investigator grant from the Alcon Research Institute.  
Photo by Kathy F. Atkinson