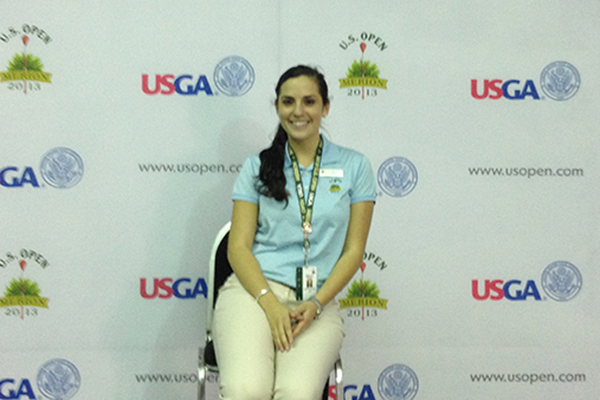 Behind the scenes
UD HRIM students assist with 2013 U.S. Open at Merion Golf Club
4:32 p.m., June 21, 2013--This year's U.S. Open golf tournament provided a challenge not only for competitors but also for interns selected from the University of Delaware's Department of Hotel, Restaurant and Institutional Management (HRIM). 
Merion Golf Club's space is limited – both on the course and off – in comparison to some previous U.S. Open host sites. So while the pros faced playing a unique course (the first under 7,000 yards since 2004), staff behind the scenes faced limited space to carry out flawless event setup and execution.
'Resilience Engineering'
The University of Delaware's Nii Attoh-Okine recently published a new book with Cambridge University Press, "Resilience Engineering: Models and Analysis."
Reviresco June run
UD ROTC cadets will run from New York City to Miami this month to raise awareness about veterans' affairs.
According to Sheryl Kline, chair and professor of HRIM, that is why Merion Golf Club and Ridgewells Caterers came to UD -- "to recruit our best students" to help support the event.
One of those students was Kathleen Grimes, who will be a senior in HRIM this fall.
Grimes worked for Ridgewells for the week in a hospitality tent rented by Vertex, a tax software company headquartered in Berwyn, Pa. Companies rent these air-conditioned tents equipped with flat screen TVs for easy viewing of the championship.
Her duties included keeping the tent clean, setting up, maintaining and breaking down the buffet for every meal. 
Although Grimes' first supervisor was later hurt and unable to finish the week, Grimes said she gained a lot of knowledge from working for her.
"She was very positive and willing to teach me as much as possible about such a catering event," Grimes said. "She trained me well during the first few days so that I could handle as much as possible on my own later in the week."
Allison Hanik, also a senior in HRIM, had been interning with Merion Golf Club since December and was dubbed "food and beverage intern supervisor" upon returning this summer. She worked from June 8-19 planning and operating all food and beverage operations for the member hospitality tent, players hospitality and the clubhouse, which consisted of all U.S. Golf Association (USGA) members and their guests.
"I created the employee training guide, member guide and helped with the overall operations plan for the U.S. Open," said Hanik. 
On the eve of the competition, Hanik noted how busy the club had been even though they were just at the beginning. 
"I got the opportunity to help run the Past Champions Dinner where all past U.S. Open champions had a four course meal at the club," said Hanik. 
According to Hanik, the week of the U.S. Open she worked more hours – a total of 98 – than any other Merion employee. 
Owen Hutchinson, a 2013 HRIM graduate, was responsible for setting up the bar in the member hospitality tent and ensuring it remained stocked throughout the day, making drinks for guests during busy periods, breaking down and cleaning up at the end of the night and anything else that needed to be done in the member's tent.
"So far it has been a very enjoyable experience as well as a learning one and I recommend anyone who has the chance to get involved with something similar to do so while they can," said Hutchinson on Thursday.
Jonathan Weinstein and Erin Vresics, a junior and sophomore, respectively, majoring in HRIM, were given the chance when Merion Country Club selected them as first year interns.
"My duties as of now consist mainly of serving while assisting others with bussing, food running, bartending and other food and beverage operations," said Weinstein after working the event on Saturday.
"I literally do anything to make things run smoothly," added Vresics. "I serve USGA and Merion members and help out with any side work."
Kline lauded the students for getting involved and noted the connection with the U.S. Open afforded them a unique discovery learning experience.
"The students in the HRIM program had an opportunity of a lifetime working at the U.S. Open," said Kline. "Students gained experience running food service operations and developed golf tournament management skills working at one of golf's most prestigious events. The experience gained at this event is a resume builder and a memory maker for those students who were selected to be part of the U.S. Open team." 
Article by Christopher W. Pinti