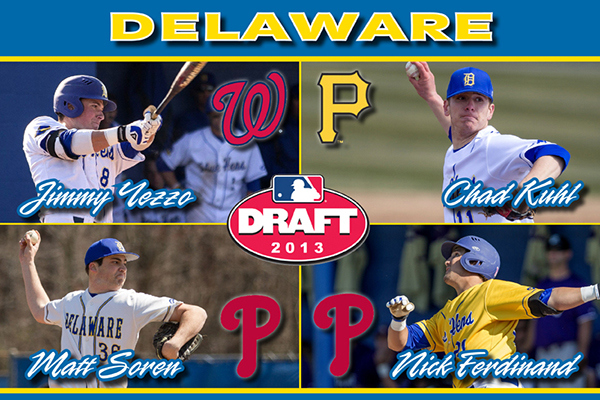 Four Hens selected
Major League Baseball teams select four Blue Hens in draft
10:05 a.m., June 10, 2013--Four University of Delaware baseball players were selected in the 2013 Major League Baseball draft.
On Friday, junior first baseman Jimmy Yezzo was selected in the seventh round by the Washington Nationals and junior pitcher Chad Kuhl was selected in the ninth round by the Pittsburgh Pirates.
Rower honored
University of Delaware junior Claire Brown has been named second team Collegiate Rowing Coaches Association All-Region.
Unsung Hero
The One Love Foundation has announced that University of Delaware men's lacrosse standout Elijah Conte has been selected as a winner of the 2016 YRL Unsung Hero Award.
The following day, seniors Matt Soren and Nick Ferdinand were selected by the Philadelphia Phillies. Soren, a pitcher, was taken in the 19th round and Ferdinand, an outfielder, was taken in the 35th round.
Yezzo, the Colonial Athletic Association player of the year and UD's outstanding male athlete of the year, was the first UD player to be drafted since 2010 and the highest pick since 2008, when the Cincinnati Reds took outfielder Alex Buchholz in the sixth round.
"This is a tremendous honor," said Yezzo. "I'm looking forward to the opportunity to play for a great organization. I'm excited to get out and start playing."
"We are all proud of Jimmy," said Delaware head coach Jim Sherman. "He is very deserving and it played out just about where we thought he would be drafted. I know he is a big Phillies fan but now he's going to have to make the switch to the Nationals. This is just tremendous honor for Jimmy and our program."
"I'm honored to be drafted by the Pittsburgh Pirates," said Kuhl, a second team All-CAA selection this season. "It was a long day and I wasn't sure if I was going to get drafted in the top 10 (rounds). It was incredible to hear my name called and to have my family surrounding me made it even more special."
"Chad deserves this great opportunity, just like Yezzo," said Sherman. "We are all proud of Chad as he had a great year. This is a proud day for Delaware baseball."
Soren was a two-time CAA pitcher of the week in 2013 and Ferdinand was named first team All-CAA.
"I'm very happy for Matt," Sherman said. "He is a hard thrower who professional baseball scouts really like and now he has the chance he wanted. He worked hard this year and it paid off for him. I'm really excited for Nick as well. All of his hard work paid off with this opportunity to go play pro baseball. It is truly well-deserved and it just finishes up a great weekend for Delaware baseball to have four guys drafted."