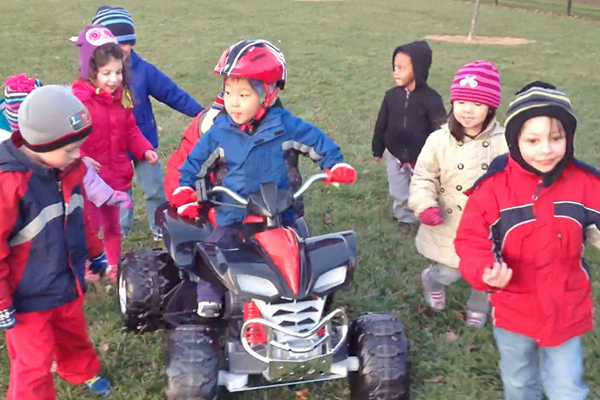 Go Baby Go goes global
Baby mobility project uses social media to share information, recruit research participants
1:12 p.m., June 11, 2013--Build a modified race car at home. It sounds cool to any kid, but for some, it is life altering.
Race cars, with creative modifications designed and fabricated by a University of Delaware laboratory, give children with mobility issues the freedom to participate in play with friends and family through driving. Until recently these cars were available only to families living in and around Newark, Del.
Chronic wounds
UD's Millicent Sullivan and Kristi Kiick have received a $1.4 million grant from the National Institutes of Health for research that could provide a new approach to the treatment of chronic wounds.
Prof. Heck's legacy
The American Chemical Society is highlighting the legacy of the late Nobel laureate Richard Heck, the Willis F. Harrington Professor Emeritus of Chemistry at the University of Delaware with a digital tribute on its publications website.
"Once the word got out about these cars we started receiving emails and phone calls from families, early childhood educators, therapists, physicians, researchers, professors and organizations around the world," says program director Cole Galloway. "In response, Go Baby Go is going global."
Research has shown that children with mobility disorders can experience emotional, social, and cognitive delays as a result of their inability to explore their environment along with their peers. So in 2007, Galloway, professor in UD's Department of Physical Therapy, teamed with mechanical engineering professor Sunil Agrawal to develop custom robot-controlled devices that allowed infants as young as six months old to "drive."
Two years ago, Galloway turned to modifying off-the-shelf toy ride-on cars to add to the "fun factor," reduce costs, and enable children everywhere to be served by his mobile technology. "We're learning how to blend low-tech with high-tech for 'Go Tech,'" Galloway says.
To date, most infants and toddlers who have benefited from Go Baby Go have been from a small geographic area. Supported by the Unidel Foundation Inc., Galloway and postdoctoral fellow Sam Logan have expanded their infrastructure and community relationships to enable their outreach to communities planet wide. Galloway realized that digital technology including social media was a key step to reaching even the most distant children and families.
Enter Barbara Ley, associate professor of communication and women and gender studies. Ley, whose expertise is in digital technology and health, joined Go Baby Go to study the role of digital platforms and tools in connecting researchers, health professionals, and families. 
Her work is both enabling the researchers to fine-tune their digital efforts and leading to the development of a new model for integrating digital technology with community-based health research projects. Ley also has a personal stake in the project, as her four-year-old son Xander is a participant.
Go Baby Go is now building built an online community through Facebook, YouTube, and the Go Baby Go website to expand relationships and dialogue with families, clinicians, and researchers across the globe. 
"We've posted informational videos on subjects like how a parent or clinician can adapt a car — using readily available materials like fabric, foam, and PVC pipe — to meet the needs of a specific child," Galloway says. "At the same time, parents and clinicians can upload their own videos and provide us with feedback about the effects of daily use of the cars."
Galloway, Logan, and Ley are expanding the use of digital media to gather data as well. Data in the form of videos will be provided through the same medium as the instructions — via YouTube. Using a carefully formulated protocol, parents can post privacy-protected videos of their children's progress so the data can be used in the team's ongoing research program. 
"I'm not the most tech-savvy person, but the opportunity to have research relationships with children and families across the planet will convert even me," Galloway says.
For more information, contact the team at udgobabygo@gmail.com.
About the Infant Behavior Lab
The University of Delaware Infant Behavior Lab focuses on studying exploratory behaviors of typically developing infants and toddlers, and creating technology and training programs that advance exploration in young children with special needs.
The lab is interested in the roles that a child's brain, body, behavior, and environmental play in the development of their exploratory behaviors.  Specific behaviors include reaching, object play, sitting, walking and the various things children do on the playground. The lab has received funding from the National Institutes of Health, National Science Foundation, and Foundation for Physical Therapy.
Lab personnel come from a range of backgrounds including physical and occupational therapy, engineering, developmental psychology and exercise science/kinesiology.
The toy car work was recently featured in an article published by LiveScience and in NSF Current, a newsletter published by the National Science Foundation.
Article by Diane Kukich