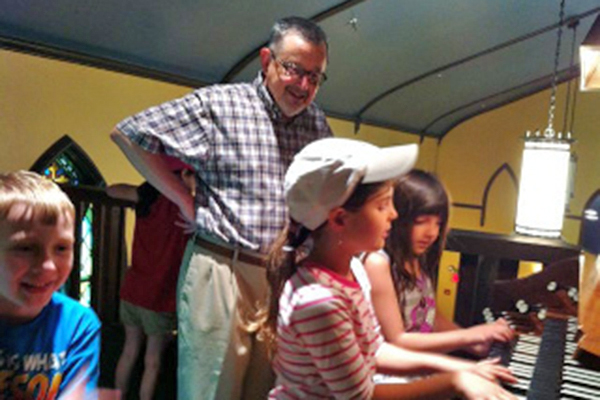 For the Record, June 14, 2013
University community reports presentations, publications
9:40 a.m., June 14, 2013--For the Record provides information about recent professional activities of University of Delaware faculty, staff, students and alumni.
Recent presentations, publications and service include the following:
From graduates, faculty
As it neared time for the processional to open the University of Delaware Commencement ceremonies, graduating students and faculty members shared their feelings about what the event means to them.
Doctoral hooding
It was a day of triumph, cheers and collective relief as more than 160 students from 21 nations participated in the University of Delaware's Doctoral Hooding Convocation held Friday morning on The Green.
Presentations
Joy Goswami, assistant director of the Office of Economic Innovation and Partnerships, recently visited India, participating in seminars and guest lectures at the University of Delhi in New Delhi, the annual meeting of the Society of Technology in Chennai and Amity University in Noida, Uttar Pradesh, which published an article about the presentation.
Rudi Matthee, John and Dorothy Munroe Professor of History, was the invited faculty speaker for the Safavid and Mughal Empires at the four-week NEH Summer Seminar on Empires and Interactions Across the Early Modern World, 1400-1800, Saint Louis University, June 11.
Publications
William W. Boyer, Charles Polk Messick Professor Emeritus of Public Administration and visiting scholar of the Center for Applied Demography and Survey Research, has been informed that his article, "Asia's Influence on Public Administration in the West" published in International Area Studies Review (Seoul, Korea, 2001), has been selected by SAGE Publications to be published in an academic work entitled Public Sector Reform edited by Andrew Massey (University of Edinburgh) in July.
Rudi Matthee, John and Dorothy Munroe Professor of History, published "Rudeness and Revilement: Russian-Iranian Relations in the Mid-Seventeenth Century," Iranian Studies 46:3 (2013): 333-358.
Service
David Herman, Trustees Distinguished Professor Emeritus of Music and University organist, hosted 20 students and three teachers from the Newark Center for Creative Learning on May 30 in a "Meet the Pipe Organ" event at Bayard Sharp Hall. Students learned how pipe organs work, examined sample pipes that each got to hold, and heard Herman play music from Star Wars on the University's Jefferson Pipe Organ. Students then went up into the gallery and played the organ, one-by-one, which Herman said was a highlight.
To submit information to be included in For the Record, write to ud-ocm@udel.edu.