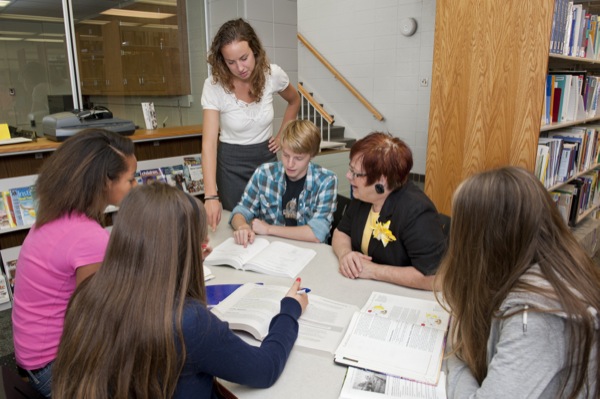 Cooperation in the classroom
Preparing future teachers through coteaching topic of June 4-5 workshop
10:01 a.m., June 3, 2013--A continual theme in educational reform is the emphasis on creating high quality teachers. To best prepare future teachers for the classroom, it is critical that they gain hands-on experience through student teaching.
Traditionally, the student teaching experience includes observing a classroom for a time, gradually taking over planning lessons in various content areas, and concludes by assuming full responsibility for the students in a classroom. 
From graduates, faculty
As it neared time for the processional to open the University of Delaware Commencement ceremonies, graduating students and faculty members shared their feelings about what the event means to them.
Doctoral hooding
It was a day of triumph, cheers and collective relief as more than 160 students from 21 nations participated in the University of Delaware's Doctoral Hooding Convocation held Friday morning on The Green.
Another approach, known as coteaching, is gaining momentum in the education community. Coteaching is a highly successful method of teacher preparation in which two teachers (pre-service and cooperating teacher) share responsibilities for planning and teaching. Instead of phasing the classroom teacher out of instruction, so the pre-service teacher can teach "solo," the two teachers actively collaborate throughout the semester.
Research suggests that coteaching not only helps new teachers to be better prepared for their first year as teachers, it also positively impacts children's learning in the classrooms. 
Promoting coteaching in Delaware
On June 4 and 5, the Delaware Center for Teacher Education at the University of Delaware is hosting a workshop "Coteaching as Best Practice for Student Teaching," for school district representatives and faculty in UD's teacher preparation programs to explore this method. Facilitators from St. Cloud State University in Minnesota will present how they improved student outcomes through coteaching and explain how to support student teachers and cooperating teachers using this model. 
Coteaching is not entirely new to Delaware.  UD's secondary science education program has incorporated coteaching since 2003 and the elementary teacher education program began using it for some placements in 2008. The early childhood education program piloted coteaching this past spring and will further develop their model this fall.
Linda Zankowsky, associate director of the Office of Clinical Studies, explains how coteaching works in a classroom. "Good coteaching is a partnership. The cooperating teacher and preservice teacher discuss the goals for the students and determine when one teacher should lead while the other offers individual support, when they should each facilitate small groups, and when to monitor students independent and group work. They must build a relationship where they trust and support each other. This can be challenging, both for the senior teacher to accept the input from a novice teacher, and for the student teacher to have the confidence to offer their point of view and become an equal partner in the classroom. "
Advantages to coteaching
Research has shown significant gains in student learning in cotaught classrooms as compared to students in the traditional student teaching classrooms and even experienced single-teacher classrooms.
UD faculty members Kathryn Scantlebury and Jennifer Gallo-Fox have both researched and published numerous articles on the coteaching experience as a model for student teaching.  They concur that:
Coteachers can provide more individualized attention, tailoring instruction to their pupil's learning needs;
Cooperating teachers can talk through new ideas and instructional strategies, incorporating new perspectives brought by the preservice teachers; and
Preservice students observe and practice classroom management skills with ongoing feedback from an experienced teacher. 
Students admit adapting to the shared responsibility can be challenging at first. "It's hard in the beginning to know when to jump in, but as you build a relationship, it becomes natural," explained Alexis Walsh, a chemistry education student. "You begin to spark off each other to better explain your topic. You can also identify when a student is struggling and provide more individualized attention." 
Sue Gleason, a high school chemistry teacher, is a strong supporter of the coteaching model. She helped to introduce coteaching at Middletown High School eight years ago and appreciates the benefits of serving as a cooperative teacher. 
"The cooperative teacher gains 'fresher' knowledge from their student teacher," she said. "The student teacher may have a broader knowledge of topics, where the cooperating teacher has a deeper knowledge of their topic. It provides us an opportunity to co-learn. "
For more on coteaching, visit the Office of Clinical Studies – Coteaching Research. 
St. Cloud State University
Teresa Washut Heck and Nancy Bacharach, co-directors of the Academy for Co-Teaching and Collaboration at St. Cloud State University (SCSU) have over 11 years of experience with co-teaching.
On June 4-5, they will present data collected over four years of study, demonstrating how they improved teacher preparation and classroom student outcomes through the implementation of coteaching. Upon completion of the two-day workshop, participants will be certified by SCSU as co-teaching trainers.
Article by Alison Burris
Photo by Evan Krape