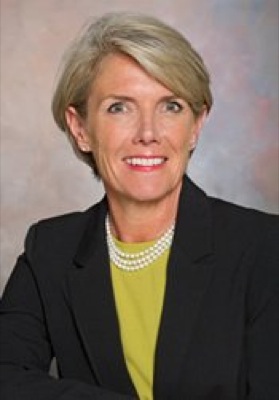 Presidential alumna
UD alumna Cooper named president of Springfield College
11:43 a.m., June 27, 2013--Mary-Beth Cooper, who earned her bachelor's degree in criminal justice from the University of Delaware in 1983, has been named president of Springfield College in Massachusetts. The appointment is effective Sept. 1. 
The Springfield College Board of Trustees unanimously approved her appointment as the 13th president of the institution. 
'Resilience Engineering'
The University of Delaware's Nii Attoh-Okine recently published a new book with Cambridge University Press, "Resilience Engineering: Models and Analysis."
Reviresco June run
UD ROTC cadets will run from New York City to Miami this month to raise awareness about veterans' affairs.
"We have some truly distinguished alumni, and Mary-Beth is a stellar example of the successful strides our graduates continue to make in their personal and professional lives," said George Watson, dean of UD's College of Arts and Sciences. 
Cooper currently serves as senior vice president for student affairs at Rochester Institute of Technology (RIT). She joined RIT in 2001, after having been dean of students at the University of Rochester since 1997.
Prior to that, Cooper was vice president for student affairs at St. John Fisher College.
"I am thrilled to join the Springfield College community," she said. "The college has such a meaningful mission and renowned reputation and I am honored to have been selected to serve as its next president."
An active member of the Rochester community, Cooper was named one of Rochester's most influential women by the Rochester Business Journal in 2005. This honor recognizes the achievements of women who work in the highest ranks of Rochester organizations, and make or influence policy decisions. She currently serves as the chair of the board for the YMCA of Greater Rochester.
Her son, Calvin, is a junior operations management major in UD's Alfred Lerner College of Business and Economics.