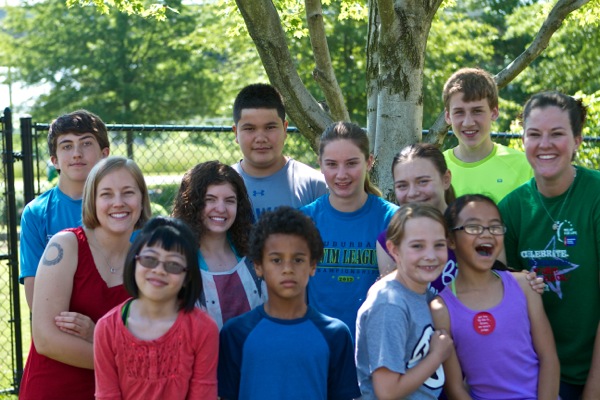 Full circle
Alumna of The College School enrolls at UD
3:39 p.m., June 11, 2013--This month, Kristen Reisor graduated from A.I. du Pont High School in Wilmington with one of the top 10 grade point averages in her class. In recognition of her leadership, learning and athletic skills, she was awarded the Excelsior Award for Academic Excellence. 
What makes her story so remarkable is that seven years ago, Reisor enrolled at The College School (TCS) on the University of Delaware campus, grappling with significant struggles in reading. TCS serves children in first through eighth grades who struggle with mild to moderate learning differences or social/emotional challenges.
From graduates, faculty
As it neared time for the processional to open the University of Delaware Commencement ceremonies, graduating students and faculty members shared their feelings about what the event means to them.
Doctoral hooding
It was a day of triumph, cheers and collective relief as more than 160 students from 21 nations participated in the University of Delaware's Doctoral Hooding Convocation held Friday morning on The Green.
"TCS brought her up to grade level in her reading and set her on the path that led to her extraordinary achievement in high school," Reisor's mother, Linda, said. "At TCS, Kristen was nurtured through the challenges of her learning differences. The love and support of a caring team of dedicated teachers made a profound difference in her life."
This spring, Reisor was accepted to seven colleges and universities. Grateful for the impact TCS had on her life, she chose UD, where she will major in exercise science with the goal of pursuing a career in occupational or physical therapy. 
Since the opening of TCS on the University's Newark campus in 1988, hundreds of students have embraced their own learning styles and, like Reisor, have moved on to great regional public, private, and charter schools. 
TCS graduation
On June 9, TCS bid farewell to 18 students who are advancing to mainstream schools, ready to dream big and embrace the future.
"It's difficult to say goodbye to departing students each year, but we know each has the tools needed to succeed academically and socially," said Laura Dougherty, TCS director. "Some of our students have conquered dyslexia or other reading challenges. Others have taken on math challenges successfully. Some have struggled with anxiety or barriers to fit in. All of these children have made progress, and it's so gratifying to see them so eager to take on the world."
Small class sizes, small group instruction, and individualized programs for learning help TCS students bridge the gap between potential and achievement.  Dougherty said that the synergy between TCS, the College of Education and Human Development and the UD campus community itself adds something special to the learning experience, as well.
"Our master teachers serve as UD clinical faculty who not only instruct TCS students, but also mentor student teachers, training them to become caring and responsive educators," Dougherty said.
Erin Donahue said she agrees. She graduated from UD this spring with a master's degree in special education and elementary education. She served two years as a graduate assistant at TCS.
"I had worked with kids in a public school setting, but there is no teaching experience like the one I had at TCS," Donahue said. "Every single staff member at TCS is on the same page, united around a common set of goals. They all know what's happening with the children, and they're all ready to provide support."
This made all the difference for Reisor, said her mother. "I think one of the reasons Kristen turned down so many other colleges and decided to attend the University of Delaware is based on her fond memories of The College School," she said. "It truly changed her life for the better."
To learn more about The College School, visit the website or call 302-831-0222.