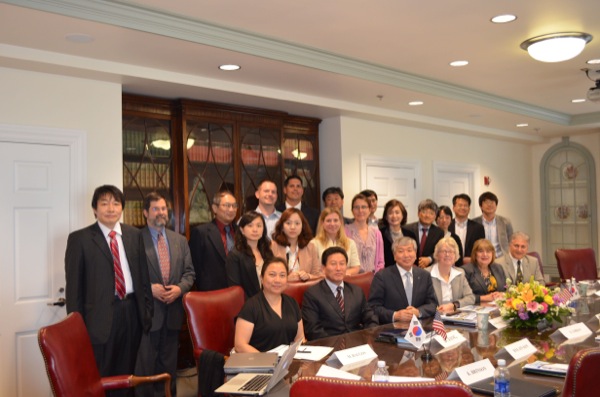 CEOE research collaboration
College welcomes Korean colleagues to explore ocean research opportunities
3:08 p.m., June 3, 2013--The University of Delaware's College of Earth, Ocean, and Environment (CEOE) hosted a delegation from the Korea Institute of Ocean Science and Technology (KIOST) on May 9 to discuss potential areas of future collaboration in advanced ocean research.
KIOST is an ocean research center headquartered near Seoul, Republic of Korea. As an important global player in ocean science, technology and policy, the work of KIOST focuses on science and technology to support effective management of ocean and coastal resources, oceanographic exploration and research, research in polar regions, innovative approaches to the development of marine resources and international cooperation in oceanographic research.
Fulbright awards
Three University of Delaware students and an alumna have received word this spring that they will travel abroad as part of the newest class of Fulbright Student Program award winners.
Peace Corps plans
Two University of Delaware students, John McCarron and Bridgette Spritz, have been selected as Peace Corps volunteers and will serve in Ghana and Rwanda.
KIOST has operated a permanent Antarctic research station since 1988 and another new station since 2012, as well as a permanent Arctic research station since 2002. In 2012 KIOST played a key role in a number of major ocean events, co-organizing the Yeosu International Exposition, which was focused on the theme of "The Living Ocean and Coast," leading the development of the Yeosu Ocean Declaration, co-organizing the East Asian Seas Congress and supporting the Oceans Day at the Rio+20 Conference in Brazil.
Nancy Targett, dean of CEOE, Mohsen Badiey, deputy dean of CEOE, Bilana Cicin-Sain, director of the Gerard J. Mangone Center for Marine Policy, and other researchers and faculty from CEOE welcomed Jung-Keuk Kang, president of KIOST, and his colleagues to a special roundtable meeting outlining the groundbreaking research conducted at CEOE and potential areas of cooperation between in KIOST and CEOE.
Researchers from each of CEOE's academic units — the School of Marine Science and Policy, the Department of Geography and the Department of Geological Sciences — were in attendance. 
As discussed in the meeting, the work of CEOE overlaps, in many ways, with that of KIOST, providing a number of valuable and mutually beneficial opportunities for research collaboration, including in the areas of: climate change research, ocean observations and operational oceanography, deep-sea research, remote sensing, coastal engineering (offshore wind farms and renewable energy development) and coastal erosion.
The Global Ocean Forum (GOF), housed in the Gerard J. Mangone Center for Marine Policy within CEOE, has a long history of collaboration with KIOST in advancing the global ocean agenda, including collaborating on the recent Rio+20 Conference, the Yeosu Exposition (which brought together more than 8 million visitors) and the Yeosu Declaration The Living Ocean and Coast.
"The visit by colleagues from KIOST to the University of Delaware was an important opportunity to exchange views on opportunities for future research collaboration between the two institutions and expand UD's global profile and partnerships with the world's leading research institutes," Targett said.
Article by Joseph Appiott 
Photo by Gwénaëlle Hamon