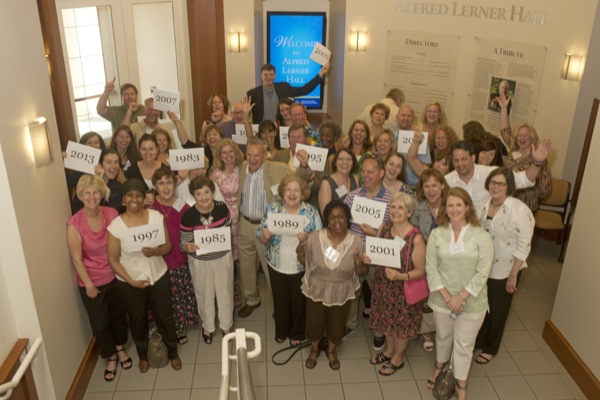 CEEE brunch
Center for Economic Education and Entrepreneurship honors O'Neill
10:20 a.m., June 3, 2013--The University of Delaware Center for Economic Education and Entrepreneurship celebrated the career of James O'Neill, its director and founder of the Master of Arts in Economics and Entrepreneurship for Educators (MAEEE) program, on Saturday, June 1, as he prepares to step down.
Open to the public, the event started at 10 a.m. in the Lerner Hall Atrium. Numerous MAEEE alumni were in attendance, along with Alfred Lerner College of Business and Economics professors David E. Black, Charles R. Link, James L. Butkiewicz and Michael Arnold. Many of the guests attended the 2013 Alumni Awards of Excellence reception and presentation the night before.
From graduates, faculty
As it neared time for the processional to open the University of Delaware Commencement ceremonies, graduating students and faculty members shared their feelings about what the event means to them.
Doctoral hooding
It was a day of triumph, cheers and collective relief as more than 160 students from 21 nations participated in the University of Delaware's Doctoral Hooding Convocation held Friday morning on The Green.
Since the beginning of the MAEEE program in 1981, there have been 16 graduating classes — the first in 1983. The program establishes national and international networks of teachers to develop, apply, and exchange important economic, financial and entrepreneurial programs. 
A middle school teacher and 2013 MAEEE graduate, John Thomas, said he was, "driven and drawn" to the program. He addressed entrepreneurship at the middle school level, saying, the for "some students it comes naturally, for others it has to be cultivated." His students complete a "commercial" assignment marketing a product in hopes they will see the potential for inventing products of their own. 
Butkiewicz, program faculty member, described how a knowledge of economics leads to a knowledge of entrepreneurship. He said MAEEE is a "unique program" and it looks for teachers willing to complete it. "We want to get teachers because they can teach other teachers," he said.
Guests were encouraged to help themselves to coffee and breakfast foods while mingling and enjoying a slideshow of pictures at the front of the atrium before Bruce Weber, Lerner College dean, opened the program.
Following Weber, Amy Willis, an MAEEE distinguished alumna, and Donald Puglisi, a respected professor emeritus, scholar and good friend, spoke before O'Neill took the podium himself.
O'Neill joined Lerner's faculty in 1971. His career, running workshops and programs for educators, has been focused on increasing the knowledge and understanding of economics and entrepreneurship in all K-12 curricula.
He received the Freedoms Foundation Leavy Foundation Award for Excellence in Private Enterprise Education and the colleg'es Outstanding Educator Award in 2008. He will continue teaching after he steps down and will remain president of the Delaware Council on Economic Education. 
O'Neill opened, saying that although he was stepping down as director, he is "going to continue to harass students for a couple of more years." He talked of his admiration for the Rev. Dr. Martin Luther King Jr. and said his dream was to develop "bright, energetic teachers."
In closing O'Neill said, "If our system is going to grow we have to recognize the importance of the individual."
Currently an associate professor at the University of Nebraska Lincoln, Carlos Asarta will accept the role of CEEE director in August 2013. His work is focused on economic education, assessment and economic and financial literacy. 
Asarta has received several research and teaching awards including, the most recent, the 2013 Association of Students of the University of Nebraska Outstanding Educator of the Year Award.
Article by Christopher W. Pinti
Photo by Duane Perry